How to Make Money Online as an Amazon Virtual Assistant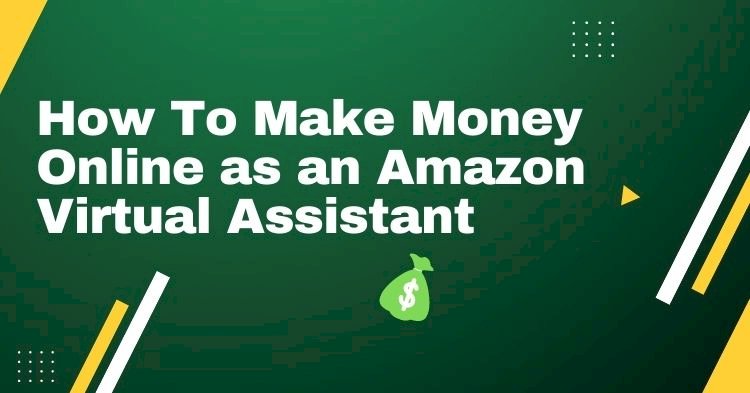 Have you ever considered quitting your 9-to-5 corporate job with low pay? Do you yearn for the flexibility and independence that comes with working from home? If you answered yes, now is the chance to turn your ambitions into a reality by working as an Amazon Virtual Assistant. Learn to make money online
What is an Amazon Virtual Assistant?
A virtual assistant known as VA is a remote independent job in which a VA is handle specific tasks or projects, such as bookkeeping, or customer assistance. A virtual assistant on amazon is a person that assists you in running your Amazon business from a distance.
VA offer a wide range of services that vary depending on the skills of each individual. VA confirm that all the task related to business like outsourcing and other stuff are managed properly and report to the business owner accordingly. VA responsibilities and tasks may include locating merchandise for their stores, improving customer service, and advertising, among other duties.
Read Also: Learn to Make Money Online from the Amazon Dropshipping Business
Reasons to Hire an Amazon Virtual Assistant
Any online entrepreneur will tell you that hiring a VA was the primary next step for their firm once they identified their niche and became lucrative.
Handling Multiple Tasks at Single Time
VA is an expert in handling multiple tasks at a single moment and may engage you to complete duties that they find onerous, such as addressing customer questions, responding to emails, following up on sales leads and many more other relevant tasks as well.
You'll be Able to Analysis & Expand your Company's Performance
When business owners reach a point where an owner can no longer put in any more hours of effort on their own business grows, however, at this stage outsourcing or VA will be the best option regarding the minimal cost and quality results. After this,
Less Employee Duty
An Amazon Virtual Assistant works as an independent or freelancer, businesses owner are only responsible for paying their fixed fee, which saves money on taxes and benefits as well. Due to this business owners earn a good profit by hiring a few virtual assistants.
Tips to Find the Best Virtual Assistant
Here are some of the best places to look for and hire a virtual assistant, as well as some payment choices.
Personal Recommendations
A referral from a friend or fellow Amazon Seller is the best way to find an amazon virtual assistant. Someone you trust will be able to vouch for this VA and make the introduction.
Upwork for Amazon Virtual Assistant
Upwork is a popular marketplace for freelancers to discover and hire jobs. You can easily avail of the services of Upwork Virtual Assistant at low prices. You only need to signup on Upwork and search for a better VA and assign the project.
Fiverr for Amazon Virtual Assistant
Fiverr is one of the popular freelancing platforms. You can hire a Fiverr Virtual Assistant for a minimum of 5 $. Fiverr provides a lot of opportunities for a virtual assistant to provide their services at cheap prices. So if someone has less budget then Fiverr is the best choice for them.
Compulsory Tools for Amazon Virtual Assistant
A VA always required some tools to get the data for any product information or any other task as well. There are a few tools that can help you get this essential information while scouring the market for the greatest products. Below are some important and essential tools that any VA required.
Jungle Scout
Start with Jungle Scout, the ultimate Amazon research tool that scours the digital rainforest's deepest and darkest dungeons for the best products for you. Apart from that, features like Niche Hunter, Product Tracker, Product Database, and Keyword Scout help you handle product hunts, inventory, listings, and sales more efficiently and conveniently.
Helium 10
Helium 10 is very similar to Jungle Scout in terms of functionality. This web tool helps you manage everything through one dashboard, including recommending possible and profitable product ideas, discovering appropriate keywords, and optimising listings.
Key Responsibilities of an Amazon Virtual Assistant
The most basic administrative tasks are only the start. Virtual assistants may help you with any part of your Amazon business from anywhere on the planet. Here are a few examples of how a virtual assistant might assist your company:
Product Hunting
The most successful Amazon entrepreneurs frequently employ assistants who are skilled at haggling with vendors. Find a virtual assistant (VA) that knows how to source possible wholesale products if you want to step up your game.
Research and Analysis of the Market
A virtual assistant, if qualified, can use their market knowledge to aid you in growing your Amazon business. VAs can research competitors, track the performance of their listings, and keep a watch on other Amazon sales trends. They can even come up with new product listing concepts.
To have a better understanding of your organisation, VAs can also undertake data analysis and assist with reporting. When it comes to marketing, having a second set of eyes is usually beneficial.
Listing Creation on Amazon
After hunting and sourcing Amazon Virtual Assistant is ready to make a product listing on Amazon. Customers can then purchase the goods and begin earning money. It's the job of VA to build an interesting, informative, and optimised listing to get the most traffic possible.
These are some considerations to make while producing listings for your seller.
A well-managed product description

Beautiful visuals that attract the audience

Strong keyword research

Taking the attractive and meaningful full title of the listing
A Well-defined Competitor Analysis
Competitor analysis is an important part of any business's operations, and Amazon is no exception. This phase comes before product listing and is extremely early in the process. An Amazon Virtual Assistant will be required to compare the products to those given by competitors for this assignment.
Price comparison, analysing your competitors' product listings, reviewing their branding, verifying their reviews, and researching their targeted keywords are all examples of this. With all of these details, you can develop a product listing that stands out from the crowd.
Customer Service
Customer service entails attending to and addressing any issues that customers may have before, during, or after purchasing your product. To keep customers satisfied and delighted, you'll need to respond to their questions via email and phone calls.