A Little Breather: December Inflation Rate Eases To 8%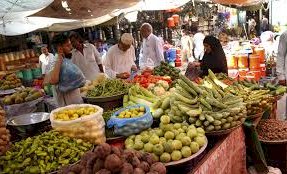 According to the Pakistan Bureau of Statistics, the inflation rate in Pakistan has eased down by some points for the second month in a row. The inflation rate drops from 8.3 percent to 8 percent, the drop is owed to the decrease in the price of food items.
The increase in inflation was 0.7 percent as compared to 0.8 percent the last month.
On year on year basis the urban areas of the country experienced a 7.0 percent increase in consumer price index inflation while the CPI index inflation increase for rural areas was 9.5 percent during the month under consideration.
The inflation calculated by the sensitive price index has decreased for December to 9.1 percent as compared to 9.9 percent in November.
The items that experience an increase in the prices include eggs, spices, butter, fish, cooking oil, vegetable ghee, and dry fruits.
Read More: Pakistani Rupee Strengthens Against The Dollar In Open Market
The essential goods items whose price goes down include onion, pulses, fruits, tomatoes, vegetables, sugar, and potatoes.
The inflation rate is the direct concern of the general public from the PTI government. People hope this slight relief will grow bigger in the coming months.