Agent Pet! One-Stop Shop For Everything Your Pet Needs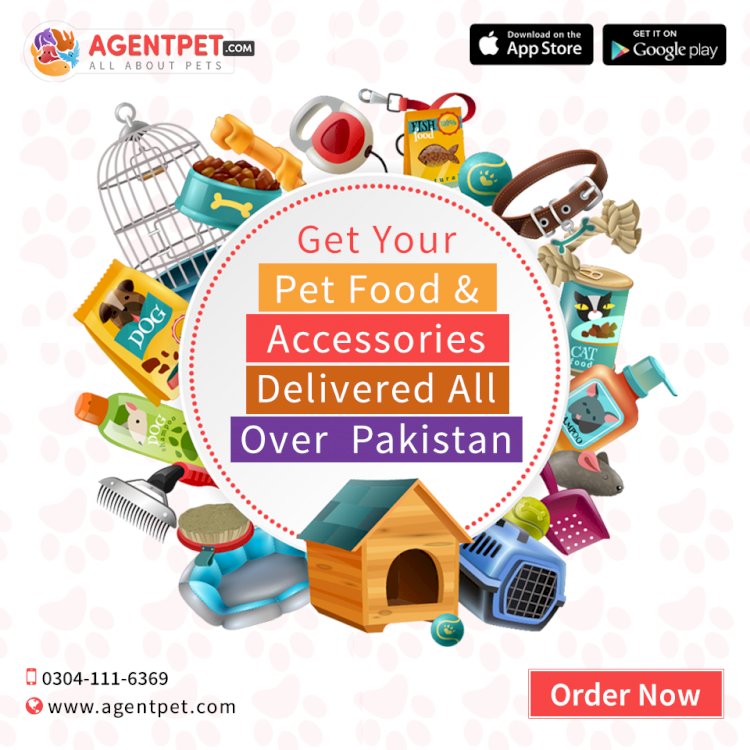 Agent Pet is the most popular pet food and accessories online store in Pakistan. They have everything from a PET to what that PET needs. A million users from Pakistan are using this store to order a number of things that your pet needs. But if you are looking for a store, the above statements are not enough to satisfy you. Right? We get you, you definitely want a trustworthy place, that literally has everything and has the ability to satisfy all the users. If you are considering all these things, congratulations you are a very good pet owner.
Now, let's get started and break down every reason why Agent Pet is the best store:
Agent Pet Is Trustable!
There are a number of reasons why the term Trustable is used for Agent Pet. Here are a few of them:
Cash On Delivery- Like it or not, shopping on the internet sometimes does get you in trouble sometimes. This store has you covered. You can pay through the very famous Cash on Delivery. Isn't it amazing? Mo worrying about paying for something before time. That's a relief.
Online Access- One of the major plusses that Agent Pet has is its online presence. They have a user-friendly website and mobile phone application, specially designed for your comfort. Agent Pet gives you access to multiple services like buying pets, anything from cats, dogs, camels, fishes to iguanas, hamsters, crocodiles, rats. Other facilities like shopping for food, toys, accessories, and finding mates for your pet is also available. Moreover, it is a platform where one can sell animals and find pets a new home. It would not be wrong to say that Agent Pet is the ultimate place for all your pet needs.
Excellent Customer Service- Agent Pet is a heaven for animal lovers. Pets, pet food, accessories, and vets, everything is available on one site. The aim of Agent Pet is to make a pet owner's life easy and simple. They have built after years of struggle a platform to fulfill all needs of a pet and their owner. Their No.1 goal is to satisfy their customer's needs and wants and they leave no space for any mistake. Agent Pet is an established pet food manufacturer in Pakistan's market, available to help you find the products and services you can't find anywhere else with certifications from ATA and PAT, hence, they are the best choice for relocation of pets care. Agent Pet has a well-trained staff in managing animals with care, comfort, and world-class standard.
Agent Pet Is Serving Pet Lovers
To Agent Pet, literally pet lovers are the most important. They are literally serving them in the best way possible. Here are a few ways through which you can assess their devotion:
Always Available Pakistan- The eStore is never short of products. We live in Pakistan and getting access to international pet food and accessories brands is always a problem. The little brats are used to only one brand and changing it every month can be a problem. However, in such a chaotic situation, Agent Pet does not fail it, customers. They are very consistent with their stock.
Delivery To All Cities- You do not have to worry about the city in which you are living. Agent Pet has you covered. It delivers in all cities across Pakistan.
Extensive Range- Yes, trust is something this store values the most. How did we come across this claim? The reason is the food the store keeps. Now the brands this store has been manufacturing say it all. Top-rated brands from around the world are being sold on the website. More so, the products are genuine and meet all the nutritional values. The products are carefully chosen from a list of premium-quality pet food manufacturers like Royal Canin, Friskies, Whiskas, Pedigree, Monello, Gourmet, and Taste of The Wild. You name it, Agent Pet has it. The pet food available is approved by a number of pet food authorities, therefore, choosing them is not much of a problem and you can get delivered to your doorstep very easily.
All these reasons make AgntPet the right fit for pet lovers. Do not trust us? Go to their Social Media accounts and look at the rating. You will get the idea.
The Drawback
The website is the No.1 website in Pakistan for Pet food and accessories but there are a few things that are so out of hands even for the e-store managers themselves. What are these issues? THE DELIVERY TIMING! Yes, you will have to wait for your package to arrive for a long time. Why you can do is order before time since delivery is also dependent on the courier service.
Now what are you waiting for? Trust them next time you want to buy pet food.