Angela Merkel gives the warning about Covid-19 management in Germany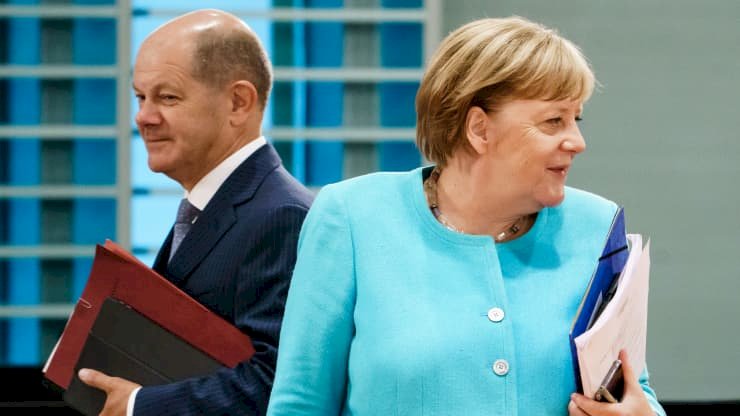 German Chancellor Angela Merkel warns about the rising death toll in Germany. On Thursday, she spoke with the new government to take quick and effective decisions to control the increasing numbers of pandemic victims in the country.
Speaking one day after Olaf Scholz presented his new center-left-led ruling coalition due to take office next month. Merkel told reporters that every day counts in as Germany continues to smash pandemic records on daily basis.
She said,
"We need more contact restrictions. I have clearly told Scholz that we can still manage this transition period together and look at all necessary measures."
Calling Thursday a sad day as the death toll rose to 100,000 in the country, Merkel, a trained scientist, said she had sought dialogues with Scholz, a Social Democrat, and the leaders of his coalition partners Greens and the libertarian FDP because of the gravity of the situation.
Read Covid-19 is on the rise as winter begins in Pakistan
Germany handled the pandemic better than so many other European countries in the start. But during the past few months, the situation seems to be going out of hand as the numbers of active cases keep increasing with intensive care beds filling rapidly.
The country recorded 351 Covid cases in the past 24 hours, bringing the official death toll to 100,119.
The escalating numbers of active Covid-19 cases pose the biggest challenge for the new government. Germany was stuck due to political changes with Merkel governing only in a caretaker capacity as the country chose its new leader.
Her Health Minister Jens Spahn warned that Germans would either be "vaccinated, cured, or dead" by winter's end, and he urged people to get the shot.
The continent of Europe is battling with a sluggish vaccination campaign that caused the intervention of the Delta variant of the virus, infecting and killing thousands of people all across the continent. The official figures showed on Thursday that 1.5million people have died of the pandemic in Europe.
Scholz, the successor of Angela Merkel for German rule, began the presentation of his policy of the new government to fight the fourth wave.
This involved the creation of the corona response task force based at his office and earmarking 1 billion euros in bonuses for overstretched health workers on the front lines.