Bereaved Persons Start Drawing Almost 145000 Hearts In London to Remember Covid Victim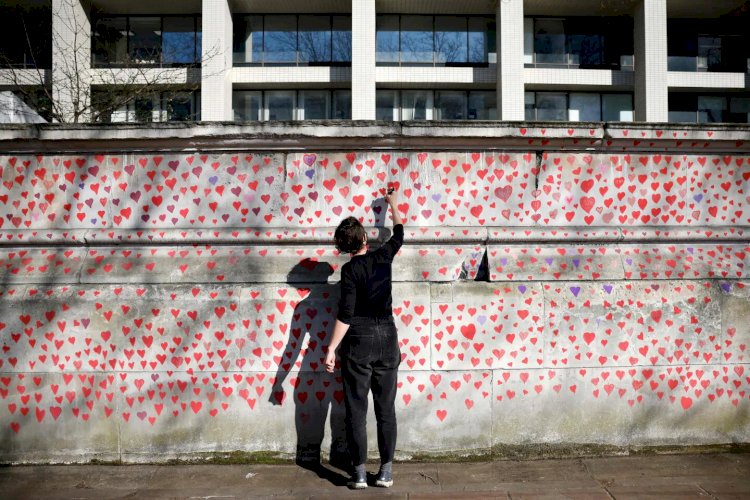 The time before march 2020 was considered as the best and good time. Because after March many people were suffering due to the coronavirus and lost their loved ones. The cruelty of the global pandemic seems limitless. So many broken promises, broken connections, broken hearts.
In London opposite to Britain's Parliament, bereaved families of those lost to the coronavirus pandemic and hundreds of volunteers are hand-painting individual hearts on a half-mile-long wall that runs along the River Thames.
Each heart symbolizes a life lost to the virus – with at least 145,000 hearts to feature on the memorial by the time it is completed.
The National Covid Memorial Wall, facilitated by the Covid-19 Bereaved Families for Justice group, said Monday that "each heart represents someone who was cherished. Someone who was lost too soon to Covid-19," adding that it would take, on average, 10 minutes for visitors to walk the length of the 6-foot-high wall. Organizers predict the memorial will take days to complete.
Read More: Atlas Honda Increases Bike Prices
Britain's doctors, nurses, lawmakers, and key workers have long called for the government to install a permanent honor to the huge number of coronavirus victims, asking that officials commemorate the crisis with an annual "covid memorial day."
The team behind the memorial told British media that while it had not obtained official consent to introduce the dedication, it hoped that the government would allow it to become a permanent fixture, to serve as a reminder of the human and emotional toll of the crisis. The organization said that volunteers would continue to add hearts to the wall until the pandemic is over.