Coronavirus UK Variant Affecting Kids More: Data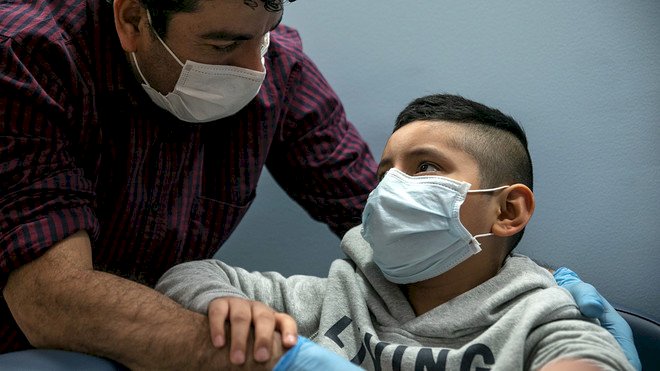 Though experts are having mixed views about the UK variant of Covid-19 being more transmissible in children, according to data, cases have raised more rapidly in children compared to adults and elderly people.
But there are fewer chances in children to translate the infection into a disease, they mention.
India has also reported a double variant virus which revealed that the virus has continuously been changing and can become more fatal.
In Pakistan on the contrary, record numbers of tests were conducted, and cases reported since June 2020.
Although the citizens are panic that the new variant is infecting children, Pakistan Institute of Medical Sciences (PIMS) Joint Executive Director Dr. Minhajus Siraj said that he had no scientific study to conclude that the new variant was affecting the children more.
"However, during the first wave as a fact, not even a single person less than 30 years of age was admitted by us. During the second wave, patients were above 12 years of age but now, as the third wave has started, we are receiving even infants," he said.
According to Prof Dr. Maqbool Hussain, head of the pediatric medicine unit at Children's Hospital of PIMS, information based on the data was not available but during the first and second waves of COVID-19, fewer children had been affected compared to the third wave.
Microbiologist Dr. Javaid Usman stated that the virus was continuously changing and may become more transmissible.
According to District Health Officer Dr. Zaeem Zia, no national or international data was there to confirm if children were being more infected compared to adults.
"Cases have been reported among children from the very first day. But, in the winter, pneumonia also worsens the situation," he said.
As per the documents available in Islamabad on September 1, there were 2,029 cases of up to 10 years old children and the number has raised by four times i.e. 8,305 on March 31.
There were 4,533 cases reported between the 10 and 20 years age group seven months ago and according to recent data, the cases have increased by four times to 17,441.
8,182 cases have been reported between the 20 and 30 age group and this has increased to 23,028 which is three times more.
Read more Bereaved Persons Start Drawing Almost 145000 Hearts In London to Remember Covid Victim
In the 31-45 years, age group, the cases were raised by three times. Between the 46 and 60 years age group, the cases increased by over three times and in the 61-80 years age group, by four times.