COVID-19 vaccine updates in Pakistan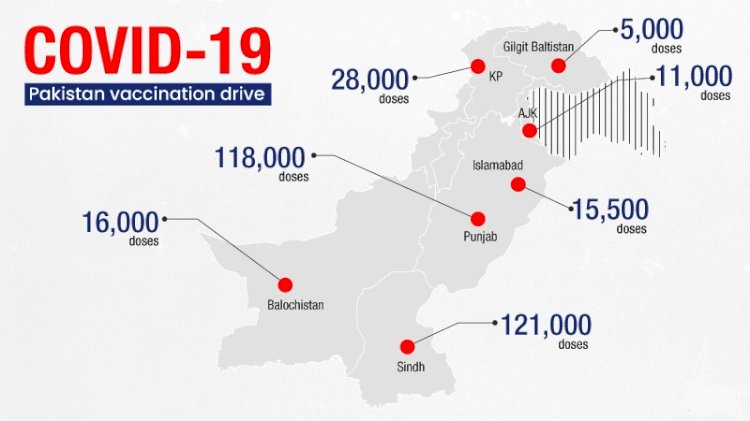 The coronavirus pandemic is still on going with second and third waves reported in many countries. But Vaccines are, also being supplied in many places. Rich countries have already secured supplies while poorer countries are still in waiting state.
Pakistan officially initiated the coronavirus vaccination drive on February 3 as the country is still fighting with the virus. The first batch of COVID-19 vaccines from China reached the country via a Pakistan Air Force (PAF) plane on Monday (February 1). China has donated 500,000 doses of the Sinopharm vaccine, which has success rate of 79.3%.
However, The National Command and Control Centre (NCOC) has also supplied the second batch of vaccines to the provinces.
Sindh is on the top to receive the most doses with a total of 121,000. Punjab received 118,000 doses, Khyber Pakhtunkhwa 28,000, Balochistan 16,000, Islamabad 15,500, Azad Jammu and Kashmir 11,000 and Gilgit-Baltistan got 5,000 doses so far.
Previously, Sindh was provided with 84,000 doses of the vaccine, Punjab 70,000, KP 16,000 and Balochistan 10,300 doses.
The NCOC has issued details regarding Pakistan's vaccination plan for COVID-19. Registration for all health workers commenced on February 22.
Read more Pakistan Records This year's Highest One Day Rise In COVID19 cases in Last 24 hours
NCOC Chief Asad Umar announced on Feb 15 that vaccine registrations are opened for people over 60 years.