Covid Vaccine App is Launched in Pakistan To Carry Digital Certificate.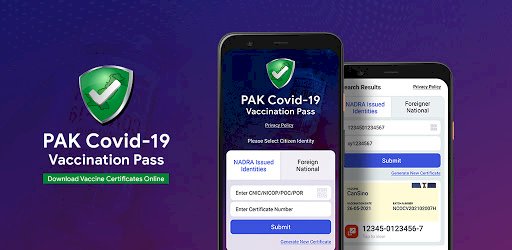 The National Command & Operation Centre (NCOC) in collaboration with National Database And Registration Authority (NADRA) has launched a digital app to verify vaccination certificates issued to the people after their vaccination.
The step has been taken after fake certificate cases were reported in the media.
The vaccinated citizens can now verify the authenticity of their vaccination certificates using the "Vaccination Pass App", according to NCOC.
The app allows the users to download the Covid vaccination certificate issued through Nadra and save it on the phone.
The digital certificate is official proof of Covid-19 vaccination, which is required for domestic and international traveling.
Using the QR Code, the digital certificate can be verified rapidly.
Read More: Pakistan Sets A World Record By Planting 52,000 Saplings in 1 Minute.
The NCOC earlier this week announced that complete Covid-19 vaccination certificates would become mandatory for air travel after September 10.
The nerve center of Pakistan's virus response also took a major decision to speed up the vaccination process across the country.
The forum announced that the partial vaccination certificate would become invalid after September 10 "whereas all the provinces had been informed regarding this decision".
The forum added that the interval between the second dose of all types of vaccines is reduced from 42 to 28 days.