How To Make Dalgona Coffee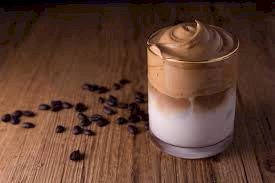 This coffee was introduced in 2020 and its name is derived from Dalgona, a Korean sugar-sweet due to its resemblance in taste and appearance but the interesting fact is that most Dalgona coffee doesn't actually have Dalgona in it.
However, Pakistanis have been making 'phainty hui coffee' for years. It the ultimate winter delight in Pakistan. The frothy coffee maybe called Dalgona coffee worldwide but it will always be the 'phainty hui coffee' for us.
Ingredients of Dalgona Coffee
2 tablespoon coffee powder
2 tablespoons boiling water
Ice cubes as required
2 tablespoon sugar
2 cups cold milk
Procedure
Make a coffee mixture
To begin making this, take a big size bowl and put in sugar, instant coffee powder, and hot water in 1:1:1. Don't mess up with the quantities or the mixture will never get frothy and thick.
Beat the coffee mixture using a whisker or hand blender
After putting in all the ingredients, take a whisker or a hand blender and whip it till it turns thick, creamy, and light in color. It will take you approximately 5-10 minutes manually but will be faster with the help of a machine.
Prepare the Dalgona Coffee
Now, take 2 glasses or coffee mugs and add ice cubes to it according to your choice. Pour the chilled milk into the glasses and on top of it place the frothy coffee. Serve chilled.