India suffers worst decline since '47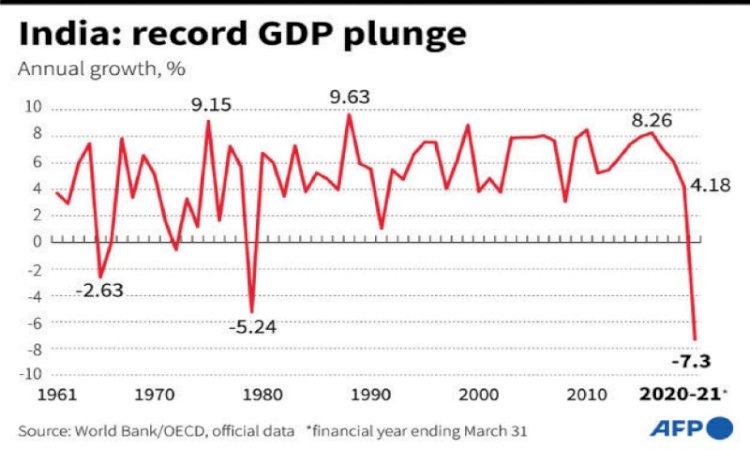 India's economy reduced to 7.3 percent in 2020-21, according to official data on Monday, its worst recession since independence as coronavirus lockdowns resulted in making millions jobless.
The third-largest economy of Asia raised by 1.6pc between January and March in the fourth fiscal quarter, after leaving its first "technical recession" since 1947 after two successive quarters of reduction.
Approximately 230 million Indians experienced poverty owing to the pandemic last year, as per a study by Bangalore's Azim Premji University, for which the poor definition is 'those living on less than 375 Indian rupees ($5) a day'.
A relaxation in restrictions towards the end of 2020 helped drive a tentative recovery in activity, but after Covid-19 cases devastating surge in April and May, this may prove short-lived.
India's overwhelming second wave, which has taken the lives of 160,000 people in eight weeks, impelled further lockdowns and observed 7.3m people become jobless in April alone, as per the Centre for Monitoring the Indian Economy.
That means more misery in a country where 90pc of the workforce belongs to the informal sector with no social safety measure, and where millions are not eligible for emergency government rations.
In response, Prime Minister Narendra Modi's government has not announced any fresh major stimulus measures.
The growing criticism has gripped the government, from Nobel prize-winning economists Esther Duflo and Abhijit Banerjee also for urging on loans to hard-hit businesses instead of direct cash handouts to helpless families.
According to a recent report, British financial services firm 'Barclays' fixed the financial cost of India's second wave at $74 billion, or 2.4pc of GDP (Gross Domestic Product).
Read more: India Crosses 300,000 Covid-19 Deaths
Annual growth of 10.5pc is projected by India's central bank whereas the International Monetary Fund (IMF) 12.5pc, the fastest among main economies.