Indians Rush For Vaccines As COVID-19 Death Toll Surges Over 200,000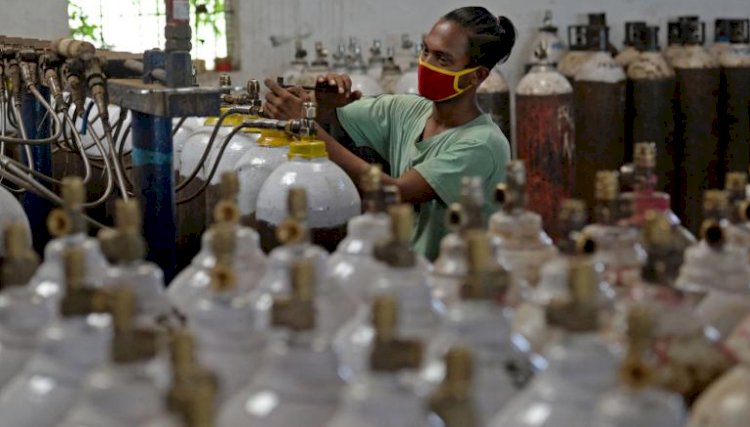 Indians fought for online registration for a huge vaccination drive scheduled to start at the weekend owing to the country's toll from the COVID-19 increased over 200,000 on Thursday. The situation got deteriorated due to shortages of beds at the hospital and medical oxygen.
The second wave of infections caused at least 300,000 people to test positive each day for the past week, resulted in devastating health facilities and crematoriums and requiring a prompt response from allies overseas distributing equipment.
During the last 24 hours, 360,960 new cases have been reported for the world's largest single-day total, carrying India's infections count to almost 18 million. It was also the deadliest day so far, with 3,293 mortalities taking the toll to 201,187.
However, according to the experts, the official count massively underestimates the actual count in a nation of 1.35 billion.
As stated by New Delhi resident Manoj Garg," The situation is very horrific, and everyone is afraid. People are really afraid that they won't get another chance to talk to others again."
According to Delhi state, one death is reported from COVID-19 every four minutes and the bodies of COVID-19 victims have been taken by the ambulances to temporary crematorium facilities in parks and parking lots, where dead bodies burned on rows of funeral pyres.
"Previously, we had enough space here but now all space is occupied. Whatever little gaps we have left, we are trying to fill them up now," stated 'Mohammad Shameem', the head grave digger at Delhi's biggest graveyard.
Genesis hospital in the Delhi district of Gurgaon informed families to bring back the patients as its supplies of life-saving oxygen were diminishing fast, one family said.
"The hospital is trying for the availability of fresh oxygen but we are informed to make alternate arrangements," stated Anjali Cerejo, whose father had been admitted previously but now in search to find another bed elsewhere.
The situation is terrible outside hospitals as people aligned on trolleys, in cars, and cycle rickshaws, with their loved ones holding oxygen cylinders for them, just waited to get a bed inside.
Read more: "Pyare Khan" A hero for COVID Patients in India
According to the World Health Organization in its weekly epidemiological update, India reported 38% of the 5.7 million cases stated worldwide last week.