Khadija Saleem is the only Pakistani woman who leads a team responsible for planning cargo stowage.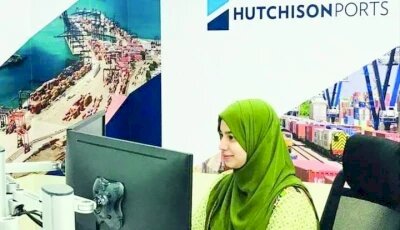 In Pakistan, where society defines the roles of gender by providing different roles to men and women. By considering women weak as compared to men and assume that they cannot fulfill hard tasks. Khadija is one of the examples to prove that not just men, women can also work in male-dominated sectors. The ports and shipping industry is one such field. she proves that women are not less than men when they are career-oriented, they can do anything that men can do.
Khadija Saleem is one woman who has managed to break these barriers. She is the only female vessel planner in the country and leads a team responsible for planning cargo stowage at the Hutchison Ports Pakistan (HPP) regional operations center (ROC). Hutchison Ports Pakistan is the country's first deep-water container terminal, designed to accommodate super post Panamax ships. Khadija completed a Masters of Business Administration (MBA) with a specialization in supply chain management. So she pursues her career in a field in which she has potential.
Also Read:
Khadija, 26, is the eldest of five siblings. Her father is a retired government officer and her mother is a homemaker.
Like most girls, Khadija too had been steered towards pursuing a career as a doctor or a teacher when she was younger.
She is currently in charge of planning cargo stowage as per the guidelines provided by the shipping lines as well as training new interns. Her team supervises the movement of around 40,000 cargo containers a week on average.
Managing data and billing for different business units and inter-departmental coordination are other responsibilities that Khadija fulfills as the team head.