Pakistan Army Successfully Test Shaheen- III Missile System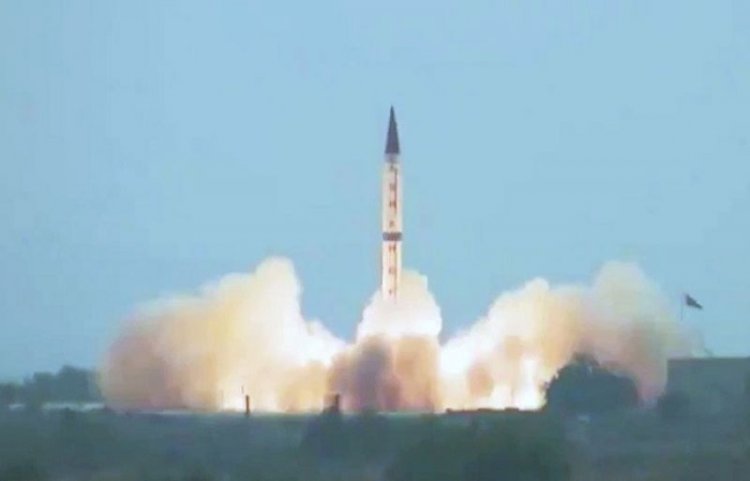 On Wednesday, January 20, 2021 world's tenth powerful Pakistan military successfully tested the Shaheen- III surface to surface ballistic missile.
The missile is capable of carrying nuclear and conventional warheads for 2,750 kilometers.
The successful test drive was aimed to reinstate the various technical parameters and the multiple designs of the under-discussion weapon system said the DG ISPR Major General Babar Iftikhar.
The occasion of the test flight of the missile system with the Arabian sea as its impact point along with scientists and engineers was attended by many eminent personalities including Chairman Joint Chiefs of Staff Committee General Nadeem Raza, Commander Army Strategic Forces Command, Dr. Raza Samar, Lieutenant General Muhammad Ali, Director General Strategic Plans Division, and Chairman NESCOM.
Read More: Pakistan Navy Successfully Tests Surface To Air Missiles
The scientists and engineers were applauded and congratulated by higher authorities including Chairman Joint Chiefs of Staff Committee General Nadeem Raza.
While addressing the historic moment the Chairman Joint Chiefs of Staff Committee emphasized that the weapons and modern defense system deployed in the Pakistan army are to create a strong deterrence and to fight any initiated aggression against our beloved motherland. He also asserted that Pakistan believes in and backs the peaceful co-existence with its neighbors and other regional and world states.
General Nadeem congratulated all those who invested their efforts, time, and intelligence in the missile construction, referring to the success of their whole-hearted effort.
He appreciated the technical expertise, devotion, and commitment of all the involved engineers and scientists for conducting the successful test of the Shaheen- III missile system.
Read More: Pakistan Successfully Test-Fires Fatah-1: ISPR
Besides, the president, the prime minister, COAS and the services chiefs have also congratulated and applauded the engineers, scientists, and staff for the successful testing of the Shaheen- III missile system.