Pakistan Launches 120,000 Doses Of PakVac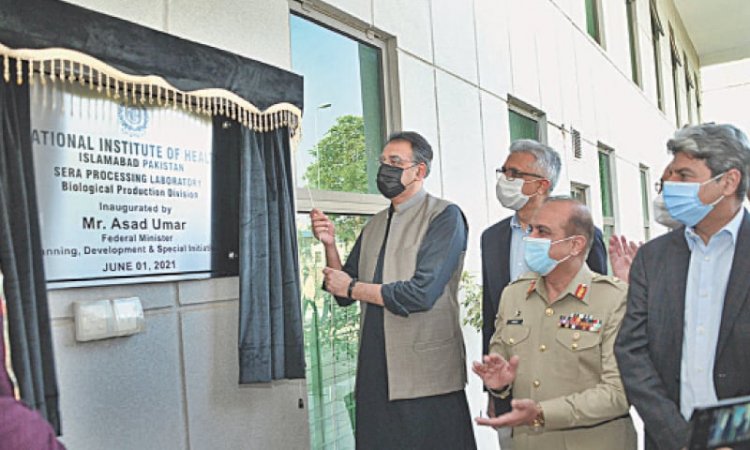 Pakistan inaugurated a vaccine processing plant on Tuesday and launched 120,000 doses of 'PakVac' produced from the concentrate of the Cansino vaccine. On the other hand, World Health Organisation (WHO) validated the emergency use of the Sinovac vaccine.
In the meantime, Pakistan also reported the lowest positivity rate since March 1 this year.
The National Command and Operation Centre (NCOC) updated the arrival of another 500,000 doses of the Sinopharm vaccine. Whereas the Drug Regulatory Authority of Pakistan (Drap) registered Pfizer vaccine that had recently arrived in Pakistan.
The inauguration ceremony of PakVac took place at the National Institute of Health (NIH) and attended by officials including Minister for Planning, Development and Special Initiatives Asad Umar, Special Assistant to the Prime Minister on Health Dr. Faisal Sultan, NIH Executive Director Maj Gen Prof Aamer Ikram and Chinese Ambassador Nong Rong.
While briefing the ceremony's participants, Prof Aamer Ikram stated that 120,000 doses were ready for use, and to produce 900,000 more doses, the concentrate had been acquired. "We had performed a clinical trial with CanSinoBio in the country and made an agreement with it for technology transfer. We have been targeting to produce around three million doses every month and the raw material in future," he elaborated.
Later, Prof Ikram stated that it was a big achievement as the vaccine was produced through Good Manufacturing Practice (GMP) qualified, antisera production plant which was International Organisation for Standardisation (ISO) certified as well.
Talking on the occasion, Ambassador Nong Rong stated that China had cooperated with Pakistan to eradicate the virus as his country wanted to eliminate the disease across the world. "Pakistan was the first country whom the vaccine was gifted by China and it remained important to us," he added.
Dr. Faisal Sultan said according to a saying 'for every problem there is a solution'. "It is difficult to produce vaccines from raw material. We put great effort into quality assurance, and we will be able to manufacture vaccines on our own within a few years," he added.
Read more: Pakistan made COVID-19 Vaccine 'PakVac' is Ready for Use
Asad Umar stated that diseases were not limited to any specific borders or religion, that was the reason why the NCOC had been set up to devise a collective policy. "Despite the number of cases has reduced, it has not stopped its efforts to curb the spread of the virus. I want people to get vaccinated as soon as possible," he added.