Pakistan To Begin COVID-19 Vaccination Drive Next Week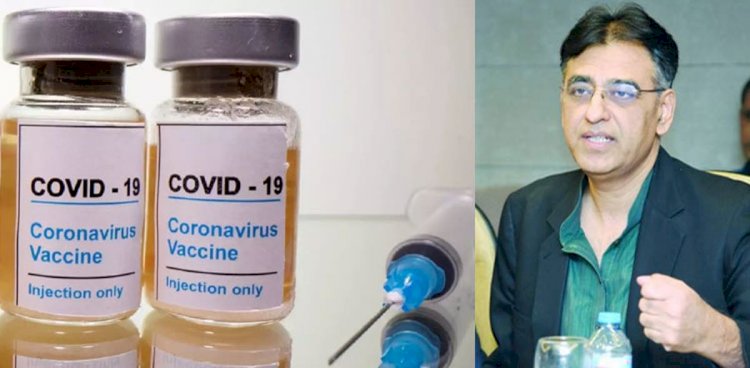 Pakistan will begin its COVID-19 vaccination drive the next week and will start with front-line health workers, announced by Federal Planning and Development Minister Asad Umar, who is also the head of the National Command and Operation Centre (NCOC).
The vaccination system is ready and there are hundreds of vaccination centres in Pakistan which are managing covid vaccines, he added.
China as assured to give 500,000 doses of vaccine to Pakistan by the end of this month. It was made by the Chinese firm, SinoPharm.
Two vaccines have been approved by Pakistan so far but for emergency purpose only. One by China National Pharmaceutical Group (SinoPharm) and the other by AstraZeneca.
Another vaccine "Sputnik V vaccine" by Russia is also expected to get approval in the coming days.
Furthermore, the NCOC also exposed a plan for COVID-19 patients.
The National Immunization Management System (NIMS) will be operational through National Vaccination Administration and Coordination Cell (NVACC) nationwide, elaborated by NCOC.
Apart from setting up of Provincial District Vaccination Management and Coordination Cells (PVACC) and District Vaccination Management and Coordination Cells (DVACC), Adult Vaccine Centres (AVC) has also been set up across the country.
The CNIC number will be sent to 1166 through SMS by all citizens (frontline health workers also). NIMS website can also be used for registration if required. Then after the verification process, designated AVC (based on present address) and PIN code will be sent to the citizen by SMS.
Read More: 64 deaths, 1910 New Virus Cases Reported In Pakistan
An SMS will be sent to citizens to intimate appointment date for vaccine administration, upon the availability of vaccine at the allotted vaccination centre.