Pakistan warns UN about the consequences of Indian militarization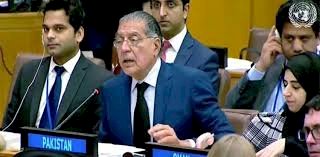 Pakistan on Monday alarmed United Nations about India's hegemonial activities as a threat to international peace and security, clearly stating that Pakistan would answer the potential attacks with counter-attacks.
Speaking during UNGA's first committee, which deals with international security and disarmament, ambassador Munir Akram said that actions of the fsacit regime of India are a violation of the UN Security Council resolutions for Kashmiri people to exercise the right to self-determination.
"India has unleashed the most brutal reign of terror and oppression on the Kashmiri people- youth, women, and civilians- and against its own 200 million Muslim minority. To camouflage its crimes, it has restored to the world's most notorious disinformation campaign", the Pakistani envoy said.
Read PML(N) to Sue PTV For Airing Fake News About Junaid Safdar
The ambassador also mentioned India's investment of $73 billion last year for making conventional and non-conventional land, air, and sea weapon systems.
"Those states which so eagerly provide the advanced weapon systems and technologies to India must know that 70% of India's weaponry and forces are deployed against Pakistan, not to serve its promised role as a counter to the rising Asian great power in the so-called Indo-Pacific region. And, India has operationalized its dangerous doctrines of pre-emptive aggression against Pakistan."
The ambassador also cleared that if Pakistan stands for regional peace and prosperity, and if the country faces any potential territorial threats from the neighbor, then speedy counter-attacks would be the answer.