Peshawar Bus Rapid Transit Purchases More Buses.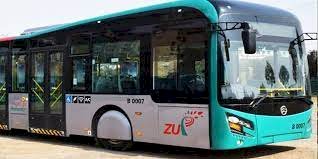 The Peshawar Bus Rapid Transit (BRT) decided to buy 86 new buses from China in order to increase its routes and to work at a larger scale within the provincial government. Fortunately, another good news coming in with the other economic reliefs an
The spokesperson of BRT announced that due to the rapid increase in population, the buses and feeder routes quantity may be extended so that its benefits could be availed by the population easily.
To serve the citizens at a large scale, the Peshawar development authority's urban development board has already permitted the Bus Rapid Transit feeder routes to the areas, Warsak road, Regi llama township, and the defense housing authority scheme.
Read More: 581 Million Budget Approved.
The spokesperson also said that after the arrival of 86 buses from China, a total number of 244 buses could be delivered to the BRT fleet and the extra feeder routes would be connected shortly.
The major purpose of this project is to help and support citizens, as the population is growing and there is quite a quick need for more transportation infrastructure within the provincial capital. Transport problems are major in our country, as the facilities lack but the population increase. The facilities of transport in our country are not even up to the mark, many people our below the poverty line which obviously states that they couldn't afford transport services very easily. So, there must be a way for them to avail the services of transport at a reasonable price. A city like Peshawar which is basically flooded with people need more transportation infrastructure than any other small city and it's quite a transformational step taken on the behalf