Schools For 9th-12th Grade Reopened Today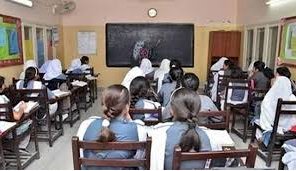 The classes of 9th, 10th, 11th, 12th, O, and A levels have reopened today. Although the class strength was less the students seem to be happy after a break of 53 days.
The classes of Grade 1-8 will reopen from 1st February 2021.
Karachi
The children were happy as they met their friends after a long time and were back to their routines. According to them, attending online classes are not much enjoyable as compared to going to schools. Sind government said to the school authorities to strictly follow the SOPs by wearing masks and to bring sanitizers with them. On the other hand, authorities have asked guards on the school gates to check the mask and sanitizers of an individual student on the entrance.
Faisalabad
In Faisalabad, teachers are welcoming their students with balloons decorations, and big smiles on their faces. The SOPs are strictly implemented in Faisalabad also. The temperatures of the students are also being checked before entering the gate. The classrooms are sanitized and sitting arrangement is implemented with proper distance. The half strength will go today, and a half will join the next day to maintain social distancing. Despite severe cold, many students have joined the school today.
Lahore
The parents went to school for dropping off their children to school and complained that schools should have reopened a bit late due to a severe cold wave in Lahore. Maybe children would be saved from Corona but would be affected by the cold. The SOPs were also implemented by applying hand sanitizers on the gate. The masks were provided to students not wearing masks by the school authorities. The social distancing policy was also applied as directed by allowing 50% of students to come one day and 50% to come the next day but attendance for government teachers is 100 % mandatory on each day.
Read More: Resuming Classes Of 1-8th From Feb 1st: Shafqat Mahmood
Multan
The class strength was low and students going to school faced many difficulties due to cold weather. Social distancing was being implemented and students wore masks and sanitized their hands before entering. The students' temperature was also taken. Although the students were back to school after a long time but still there as no smile on their faces due to severe cold teachers said that whether it's Corona or cold/hot weather, the educational activities are resolved everywhere now.