The Russian crew returns from the ISS after 12 days shooting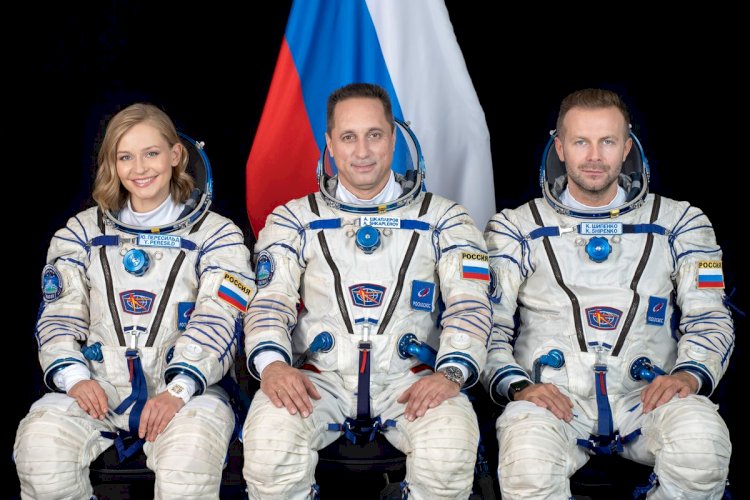 The Russian actress Yulia Peresild, 37, and Russian film director Klim Shipenko, 38, returned to Earth on Sunday after spending 12 days in International Space Station shooting scenes for the first movie in orbit.
The actress and film director landed as scheduled on Kazakhstan's steppe at 0436 GMT, according to footage broadcast live by the Russian Roscosmos space agency.
The director came back distressed but smiling and waving hands at the crew on exiting the craft, then taken for medical examination.
Peresild who plays a film starring role was welcomed warmly, with a bouquet of flowers and applause. The actress said she is sad to leave that place, stating
"I didn't want to leave. It was a one-time experience."
The cosmonaut Oleg Novitsky brought the team back to terra firma who himself had been a space station for the past six months. The filmmakers left for the shooting from the Russia-leased Baikonur Cosmodrome in ex-Soviet Kazakhstan earlier this month, traveling to ISS with cosmonaut Anton Shkaplerov for shooting the scenes for the film The Challenge.
Read Russian Crew Arrives At Space Station to Make World's First Movie in Orbit.
If the project goes smoothly and succeeds, the Russian crew will beat the Hollywood project announced last year by Tom Cruise together with NASA and SpaceX.
The Challenge's plot has mostly been kept a secret but it centers around a surgeon who is dispatched to ISS to save a cosmonaut. Shkaplerov, 49, along with two Russian cosmonauts who were already aboard the ISS are said to have cameo roles in the film.
The film's success would set the Russian film industry on a higher pedestal and would possibly make Russia a better dream and desire than America.