The Wittiest & Smartest Wedding Card Of Iqra Aziz And Yasir Hussain Is Here!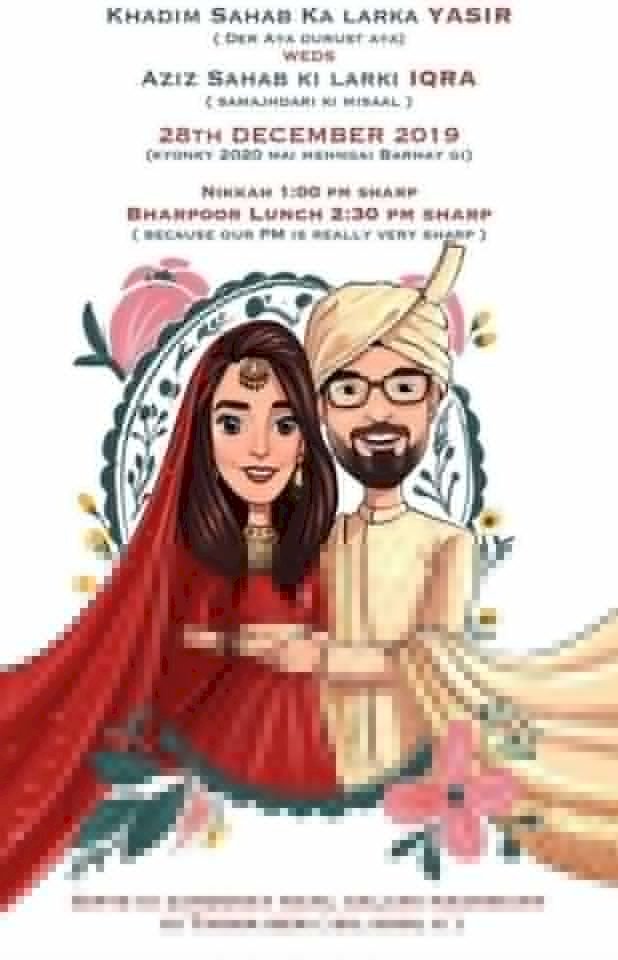 The fans of the most hyped couple Yasir Hussain And Iqra Aziz already knew the couple was tying the knot soon. However, the date was to be revealed which the actress revealed in the smartest way possible. The card will be one of the funniest cards you would have ever received.
Itcardsbreaks all the rules of the traditional wedding cards we get in our homes. It features caricatures of Iqra Aziz dolled up like a bride and Yasir Hussain, looking like a traditional Dulha. Each line in the invitation has been creatively put together to announce the grand news.
Like any other typical card, the card does not say son of XYZ but instead introduces Yasir as Khadim sahab ka larka Yasir (Mr.Khadim's son), Yasir, Der aya, durust aya and Iqra as Aziz sahab ki larki, Iqra ( Mr Aziz's daughter) Iqra, Samajhdari ki misaal.
The names are followed by the big date reveal which is December 28, 2019 pointing out the "mehngaiee" (inflation) in the country The announcement then discusses the lunch timings with probably pointing out the PM being sharp.
The endnote is the funniest part where the couple has requested not to bring gifts but share envelopes of cash just like free advice as it is also excessive.
This card has taken the level of creativity to another level. Now, this is something worth spending money on as you get your message straight.
The post The Wittiest & Smartest Wedding Card Of Iqra Aziz And Yasir Hussain Is Here! appeared first on Nation Bytes.