TLP marchers are leaving for home right after the recent call off from leaders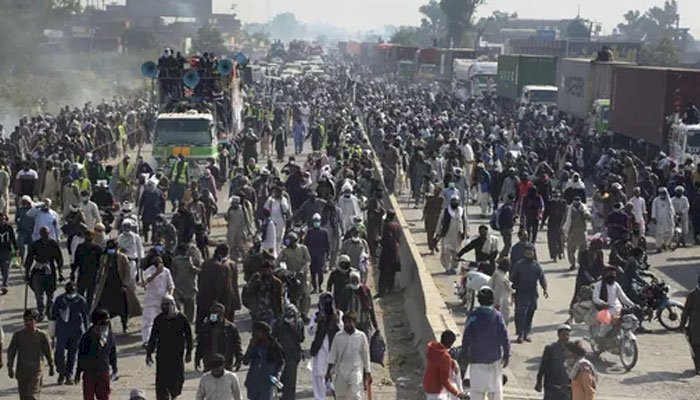 After the announcement of calling the protest off by the government and proscribed Tehreek-i-Labbaik, the local authorities are set to remove obstacles from many big roads connecting the cities including bridges of Jhelum and Chenab rivers on the GT road as the machinery have reached there.
For starting the road clearance operation, the police have been waiting for an order from the government. The obstacles placed to stop TLP protestors on the railway bridge of river Chenab were removed on Sunday following the government's notice.
A senior administrative officer told that the officers of Gujrat police have been performing the security duties actively for the last 13 days at Chenab bridge to stop the TLP marchers from entering Wazirabad.
Another senior official mentioned that the executive engineer of the National Highway Authority has arrived at Chenab toll plaza with machinery and technical staff to start the operation to fill the trenches dug up on both sides of GT road during the last 10 days. A compressor to fill the air in the tires of Heavy vehicles parked on the site has also arrived.
Read Talks between government and TLP in progress says, Sheikh Rashid
Meanwhile, a march participant told that almost half of the protestors have left the site since the agreement is announced. And those who are still here are packing their luggage to leave for home soon. They are expecting TLP senior leadership to arrive for the formal call to the end of the protest and for the details of the agreement.
Police and LEAs are not stopping anyone from leaving the site of protest.
The LEA official said Gujrat police had been continuing the crackdown on the local TLP leadership, workers, financiers, and sympathizers since the prohibited religious outfit have started its march from Lahore. This stopped the people from Gujrat to support TLP in its cause of spreading violence and inconvenience for the citizens for personal agenda.
The LEAs command considers restricting TLP marchers to enter Wazirabad as they aimed to reach Islamabad after quarreling with law enforcers in Lahore.
As the marchers are leaving, piles of garbage can be seen everywhere on roads. Authorities would have to launch a massive operation for the removal of solid waste in the area before opening it for traffic.