Namaz Timings in Pakistan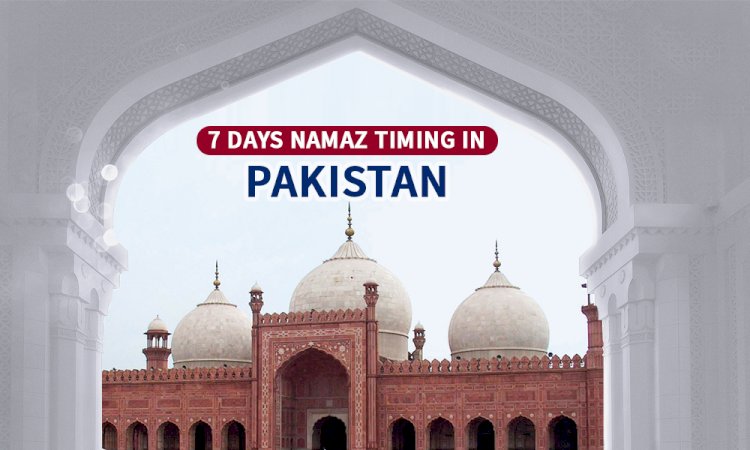 Today Namaz Timings in Pakistan
| | | | | | | |
| --- | --- | --- | --- | --- | --- | --- |
| City | Fajar | Zuhur | Asar | Maghrib | Isha | |
| Karachi | 5:39 AM | 12:21 PM | 4:06 PM | 5:42 PM | 7:02 PM | |
| Lahore | 5:18 AM | 11:52 AM | 3:22 PM | 4:59 PM | 6:25 PM | |
| Islamabad | 5:26 AM | 11:56 AM | 3:21 PM | 4:59 PM | 6:27 PM | |
| Rawalpindi | 5:26 AM | 11:57 AM | 3:22 PM | 4:59 PM | 6:27 PM | |
| Peshawar | 5:33 AM | 12:03 PM | 3:27 PM | 5:04 PM | 6:33 PM | |
| Quetta | 5:46 AM | 12:21 PM | 3:54 PM | 5:31 PM | 6:56 PM | |
| Multan | 5:28 AM | 12:03 PM | 3:37 PM | 5:13 PM | 6:38 PM | |
| Faisalabad | 5:23 AM | 11:57 AM | 3:27 PM | 5:04 PM | 6:30 PM | |
| Sialkot | 5:19 AM | 11:51 AM | 3:19 PM | 4:56 PM | 6:23 PM | |
| Hyderabad | 5:34 AM | 12:16 PM | 4:00 PM | 5:36 PM | 6:57 PM | |
| Sukkur | 5:35 AM | 12:14 PM | 3:53 PM | 5:29 PM | 6:52 PM | |
| Gujranwala | 5:20 AM | 11:52 AM | 3:21 PM | 4:58 PM | 6:25 PM | |
| Kotli | 5:23 AM | 11:53 AM | 3:18 PM | 4:56 PM | 6:24 PM | |
Are you someone who is residing in Pakistan? Then you will definitely want to know about the prayer timings in Pakistan. The prayer timings are important since these timings help Muslims around in the world navigating the time for their daily religious practice.
There are total 5 prayers in a day which include Fajar Prayer (Morning Prayer), Zauhar prayer (Afternoon prayer), Asar Prayer (Evening Prayer), Maghrib Prayer (twilight prayer), and Isha prayer (the Night Prayer).
The Namaz timings in Pakistan vary for all the above-mentioned prayers in different cities. Therefore the Namaz timings in Islamabad will be different from namaz timings in Karachi. Feel free to check the prayer timings in Rawalpindi, Karachi, Lahore, Peshawar, Islamabad, Peshawar, Multan, Faisalabad, Sialkot, Hyderabad, Sukkur and Gujranwala on Nation Bytes, the best source to know the exact namaz timings in Pakistan.