Engagement Card Of Bakhtawar Bhutto Is Viral On Social Media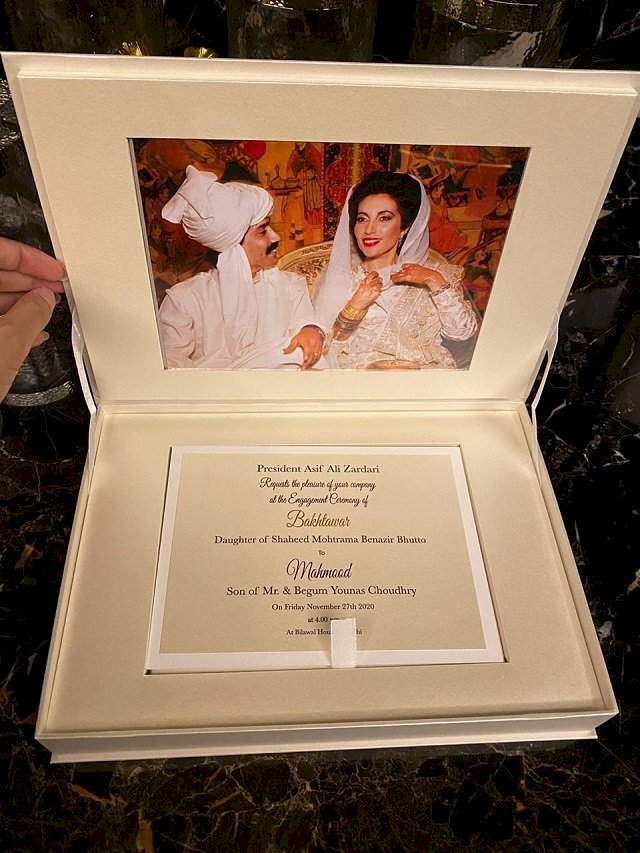 The invitation card for the Engagement ceremony of Bakhtawar Bhutto is gone viral on Social media in few hours. Bakhtawar Bhutto is the first daughter of former Prime Minister of Pakistan Shaheed Benazir Bhutto and former President of Pakistan Asif Ali Zardari.

In the invitation card, it shows that the engagement ceremony of Bakhtawar Bhutto Zardari with Mahmood, son of Younas Choudhary, will be held on 27th November 2020, at Bilawal House in Karachi. Younas Choudhary is said to be a US-based businessman. Hence, his son is also a businessman.

I have seen two interesting things in the invitation card of Bakhtawar Bhutto. Firstly, at the top of the card, it is written: "President Asif Ali Zardari" he is still president for his family and friends. Secondly, On the wedding card's daughter or son are associated with the name of their father but, in this invitation card, it is written the daughter of Saheed Mohtarma Benazir Bhutto.

Read More: Ali Zafar Offers To Pay For Travel Expenses Of Meesha Shafi

The engagement ceremony of Bakhtawar will be held on Nov 27th, 2020, at Bilawal House Karachi, according to the invitation card.