Education institutes in 7 Punjab cities to be closed for 2 weeks from March 15: Shafqat Mahmood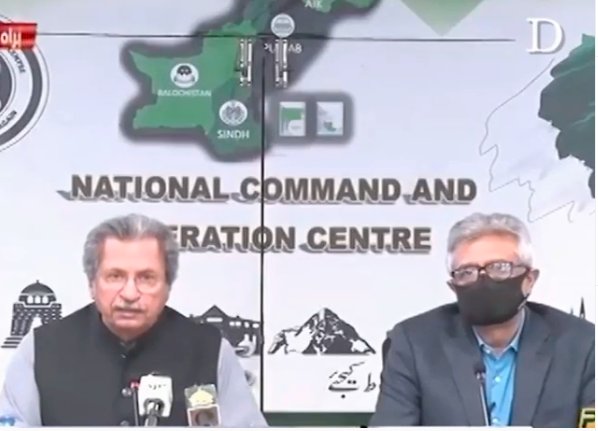 Education Minister Shafqat Mahmood announced on Wednesday that educational institutions in seven cities of Punjab will close down for two weeks w.e.f. March 15 (Monday) due to rising Covid-19 cases.
The minister was addressing a press conference by the side of Special Assistant to the Prime Minister on Health Dr Faisal Sultan soon after the National Command and Control Centre (NCOC) analyzed the coronavirus situation at educational organizations.
Mahmood elaborated that spring break will commence in 7 cities in Punjab and will continue till March 28. The cities are Faisalabad, Gujranwala, Lahore, Gujrat, Multan, Rawalpindi and Sialkot. He added that the same decision will also be implemented to educational institutions in Islamabad. Whereas, the decision regarding Muzaffarabad will be dependent on the Azad Jammu and Kashmir Government, he said.
He stated that in case of Khyber Pakhtunkhwa, the decision will only be applicable to schools in Peshawar which have a high positivity rate recorded. "In Peshawar, all educational institutions will remain closed from March 15 to March 28. On the other hand, half of the students will keep attending classes in other districts."
He said that the provincial governments will continue analyzing the situation and, in case of worsening, schools will be closed where necessary. "A constant review will be going on," he said, adding that the NCOC will also keep monitoring the situation.
The minister said that the decision is not applicable to examinations like O and A levels. "All send-ups and exams which are going on, will continue under proper SOPs," he said.
He said that it had been decided earlier, that exams for class 9,10, 11 and 12 would be conducted between the months of May and June. "I think schools should keep monitoring their situations themselves and should inform the authorities in case of something unusual."
The minister briefed the media at the start of the press conference, that all steps have to be taken by keeping in mind that nearly 50 million children attend schools, colleges, and universities. "This is a sector that has a direct effect on the spread of the disease," he said.
He stated that situation in Sindh and Balochistan were satisfactory as per analysis of the situation in the entire country. "So, it was decided that 50 percent of all children would attend classes every day by following SOPs".
Read more Shafqat Mehmood's important announcement regarding regular classes
The minister said that all SOPs previously applied will continue to be followed. However, the situation was not as satisfactory in Punjab, Khyber Pakhtunkhwa and Azad Jammu and Kashmir, he added.