Shafqat Mehmood's important announcement regarding regular classes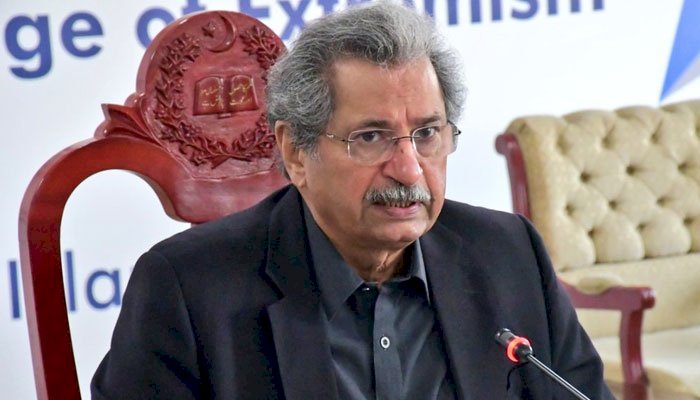 Federal Education Minister Shafqat Mehmood Thursday made an important announcement about the continuation of regular classes at schools.
The education minister announced on Twitter that all schools will resume regular 5-day classes from Monday, March 1.
Shafqat Mehmood said that this notice applies to every educational institution in the selected cities where restrictions had been imposed.
"Allah SWTs endless mercy that we are returning to routine."
He further elaborated that normal corona SOPs such as physical distancing, mask-wearing, and ensuring handwashing facilities will still be observed in all educational institutions.
Also Read: PCB Increases Crowd Capacity For All PSL Matches

In January, the National Command and Operation Centre (NCOC), had decided that students in Karachi, Hyderabad, Lahore, and Peshawar would attend classes with 50% strength on alternate days due to coronavirus cases in these cities after a detailed meeting with all stakeholders.
The educational affairs in all the areas at the primary, middle, and university level had continued with strict compliance of COVID-19 SOPs from February 1.
The forum had decided to resume the education sector with strict recommendations of astounded classes for three days a week in the urban centers, due to the higher coronavirus positivity ratio reported there.
Approval to carry out indoor wedding ceremonies and opening of cinemas and shrines has also been granted.
Also Read: Pakistan To Give 100 Scholarships To Sri Lankan Students In Top Medical Schools: Foreign Minister
The NCOC on Wednesday announced to provide relaxations on some Covid-19 restrictions that put in place owing to the second coronavirus wave.
It added that the decisions could be reviewed in case of a rise in coronavirus cases.
Moreover, it has also permitted 50 percent of crowds to enjoy the remaining Pakistan Super League (PSL) 2021 matches scheduled to be played in Karachi and Lahore.
The NCOC earlier had permitted only 20pc crowds to attend PSL 6 matches.