Hajj: Ghilaf-e-Kaaba Changing Ceremony Took Place In Makkah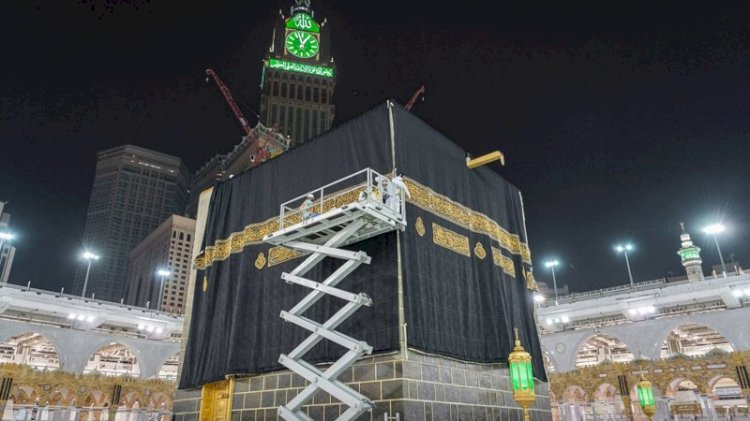 The Ghilaf-e-Kaaba changing ceremony which takes place annually was held at Masjid-e-Al-Haram early Monday morning in Makkah.
Kiswa, the covering cloth for the Kaaba, is scheduled to be changed every year on the day of Arafat, the ninth of Zilhaj.
For the preparation of the cover, at least 120 kg of pure gold, 100 kg of silver, and 670 kg of silk has been used.
Kiswa, which is inscribed with Holy Quran verses, has been made with the help of more than 200 weaving experts at the Dar-ul-Kiswa factory and costs 20 million Saudi riyals (equivalent to Rs540 million).
However, Pieces of the gold Ghilaf, which covers four walls as well as the door of Kaaba, will be gifted to foreign VIPs.
The Ghilaf's size is 657 square meters and is comprised of 47 pieces.
A total of only 60,000 pilgrims are performing Hajj this year. The kingdom government has reduced the number because of the coronavirus pandemic.
The pilgrims started arriving in Makkah on Saturday morning. It includes all residents and citizens of Saudi Arabia who have gone through a strict screening process before being permitted to take part in the second Hajj pilgrimage to be held during the coronavirus pandemic.
Read more: Things Muslims Should Do On Blessing Days of Zilhajj
The pilgrims spent the day in Mina on Sunday and have now begun their journey to Mount Arafat as they perform the rituals of Hajj.