Agent Pet A Heaven For Pet Lovers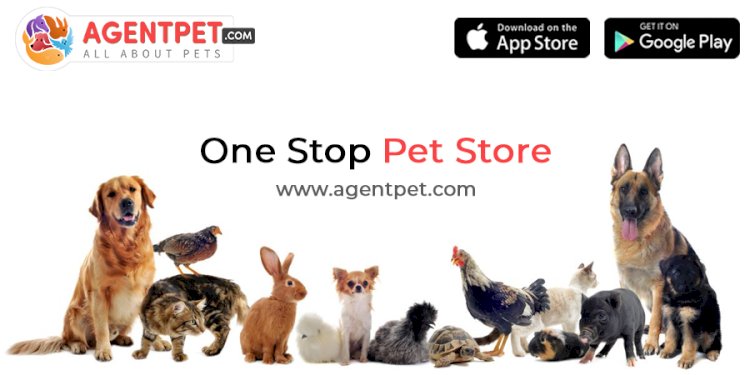 Agent pet the most popular online shopping destination for pet lovers in Pakistan. It is a one-stop-shop for buying pets and all their necessities from food to accessories. About a million Pakistanis are using agent pet to order their pet-related products. A careful pet lover always seeks the best for their little friends. They often search for trustworthy, accessible, user friendly, and a place with original products. The Agent pet has got all boxes on the checklist of a true pet lover checked. The explanation is not enough to convince you to switch to an agent pet for your pet's needs. Therefore, let's explore further why agent pet is the ultimate place to trust for your pet needs.
User-friendly web layout: As an online pet store, their website is very user efficient. There are no complicated and hidden tabs. Simply go to the required category, click the product, and select the add to the cart option and you are good to order. The ease is what a person seeks when shopping online and agent pet got you covered.
Cash on delivery: COD is the most trustworthy paying option in online shopping. It eradicates the threat of money being wasted. This option makes agent pets a more trustworthy, and legitimate option to buy/sell pets and their accessories in Pakistan.
Excellent customer service: They believe in the phrase 'customer is a king' and make you feel one. Customer satisfaction is their foremost priority. Pets, pet accessories, pet food, and even the best vets are all available in one shop. Their stock and variety are unmatchable. Using agent pet, you will never have to compromise because the required product was out of stock or unavailable. Their products and services are top-notch. They make the life of the pet owner easy and simple by providing everything in one place by maintaining world-class quality.
Nation-wide delivery: they try to reach every potential customer covering the whole country as their delivery point. Unlike other brands and online stores, the delivery is not limited to certain big cities. Instead, agent pet provides a nation-wide delivery.

Agent Pet App Download Link For Android Users and IOS Users

Extensive variety: They have an extensive variety of pets; you can choose a dog, cat, parrot of different breeds. When food is concerned, they have carefully chosen product lines from international names. Pedigree, gourmet, Monello, Friskies, and whatnot. You name it and the agent pet has it on the list. You can also order various types of pet accessories, cute food bowls, attractive collars, and the list goes on.
Pet reallocation: Shifting and reallocating becomes more saddening when you have to sell or abandon your pet. Not anymore. With the trained staff and secure transporting system of agent pet, you can get your pet reallocated under professional experts without them getting hurt physically, emotionally, or mentally. They are ATA and PAT certified; this is mentioned on the back and explains they are true professionals.
Trustworthy vets: Choosing a vet is just like choosing a consultant for yourself. Like your family members, you need the best for your pets as well. Agent pet provides the location of verified and trustworthy vets. Due diligence on vets is done by agent pet for you. So the best vets are also found on agent pets. It truly is a one-stop-shop.
In conclusion, agent pet is heaven for pet lovers in Pakistan. What are you looking for? Start ordering from agent pet today.