AJK Elections 2021: Celebrations broke out as PTI take lead.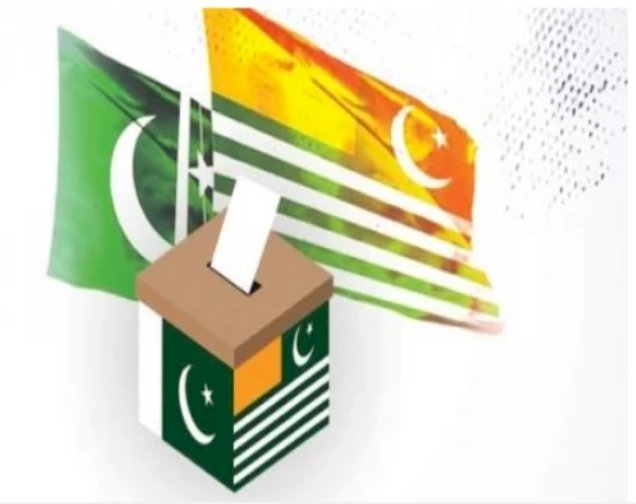 "The Ambassador of Kashmir has won. Congratulations Pakistan!" PTI tweeted in triumph.
The polling of Azad Jammu and Kashmir ended at 5 pm on Sunday and as per the unofficial result, Pakistan Tehreek e Insaf won by taking majority seats in the Legislative Assembly. The victorious party started celebrated in its camp right after the unofficial results.
The unofficial results showed PTI in the lead with 25 seats, PPP in second place with 11, and PML-N in third place with six seats. However, the result of one constituency is still pending.

Also Read: 400,000 Electronic Voting Machines To Be Ready In Next 6 Months: Federal Minister
Pakistan Tehreek e Insaf won in 25 constituencies — nine of them in Pakistan — followed by the Pakistan Peoples Party (PPP) in 10 constituencies (one of them in Pakistan) and Pakistan Muslim League-Nawaz in six constituencies (two of them in Pakistan), according to the unofficial results collected till late on Sunday night from candidates as well as sources in the Election Commission.
As per the available details, PTI candidate Javed Ahmad Butt won the LA-43 Valley-4 seat by securing 774 votes and defeating his close contender PML-N candidate Naseema Wani who secured 720.
In LA- 41 Valley-2, PTI candidate Dewan Ghulam Mohiuddin clinched victory by securing 2,326 votes against his rival Akram Butt of PML-N managed to get just 741 votes.
In LA-45 Kashmir Valley-6, PTI candidate Abdul Majid Khan retained his seat by securing 1,545 votes against his rival independent candidate Abdul Nasir Khan who secured 718 votes.
In LA- 38 Jammu-6, PTI candidate Akbar Ibrahim Chaudhary won by securing 12.219 votes while PML-N candidate Chaudhary Zeeshan took the second position by securing 7,325 votes.
In LA-3 Mirpur, Barrister Sultan Mahmood Chaudhry, from Pakistan Tehreek-e-Insaaf (PTI) took lead by 3147 votes in the Legislative Assembly, defeating his nearest rival Ch. Muhammad Saeed of Pakistan Muslim League (Nawaz).
In LA-40 Valley-I, PPP's Amir Abdul Ghafar lone clinched victory by getting 2,348 votes while his closet rival PTI's candidate Muhammad Saleem But could only secure 796 votes.
In LA- 44 Valley- 5, PMLN candidate Ahmad Raza Qadri won the election by securing 2007 votes against his rival candidate Mehr Un Nisa of the Muslim Conference (MC) who secured 1,163 votes.