Heavy Snowstorm Pounds Germany, Upends Travel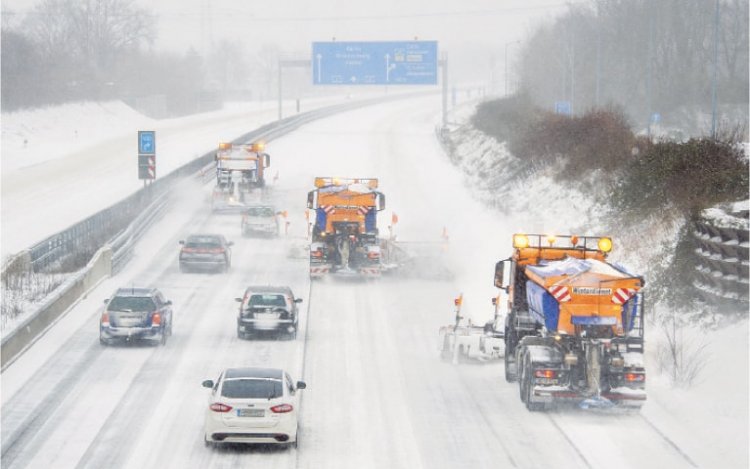 A snowstorm and strong winds hit northern and western Germany on Sunday, multiple trains have canceled trips and many vehicles got crashed as a result. According to police, 28 people were injured on icy roads.
The German Weather Service DWD suggested people remain at home and homeless people were brought in to warm shelters by the authorities to avoid the freezing temperatures.
According to National train operator Deutsche Bahn, train routes between Hamburg and Hannover, Berlin, and the west were postponed as the tracks and power lines are filled up with snow. Some train trips in the east were also canceled.
As stated by the police in the western state of North Rhine-Westphalia, a total of 222 accidents had been observed by them due to bad weather circumstances since Saturday afternoon. The two people were in a critical state due to injuries among the 28.
Authorities strictly prohibited the driving of trucks on highways until 8 pm on Sunday, in the Muensterland region and eastern Westphalia. On the other hand, 55 trucks got stuck in the snow near Knuellwald in the direction of Kassel and elsewhere.
The Bundesliga soccer game between Arminia Bielefeld and Werder Bremen was terminated hours before kick-off on Sunday because of the snowstorm.
Read More: The Building Future: 3D Printed House For Sale In New York
As the heavy snowfall lasted for many hours, it's not clear that the game would end up properly, stated by the German soccer league. A new date would be disclosed later.
As the west of the country was facing severe cold weather, southern Germany on the contrary, experienced balmy, spring-like temperatures.