World's most expensive 'Royal Gold' biryani begins in Dubai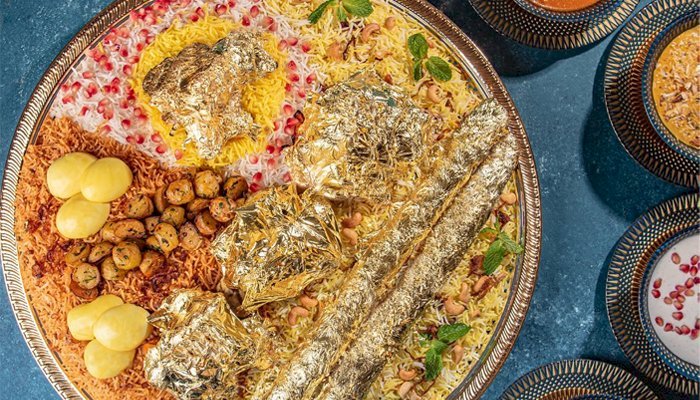 The world's most costly biryani has been initiated in Dubai by an Indian-origin restaurant at a price that'll leave us in a shocking state for a while.
Almost every one of us experienced the taste of biryani sooner or later. The famous types of biryani available in the market are Hyderabadi biryani, Bombay biryani, Sindhi biryani, Lucknowi biryani, kachay gosht [raw meat] ki biryani, fish biryani, tikka biryani, shawarma biryani, Kashmiri biryani, and dum pukht biryani. However, the world's most expensive one seems to be taking the dish to a higher level.
Called 'The Royal Gold Biryani', the world's most expensive biryani offered in Dubai has been garnished with 23-karat edible gold and is prepared by the Bombay Borough (Modern Indian Bar and Eatery in Dubai).
It is prepared from three different types of rice including biryani rice, qeema rice, and white, saffron-infused rice and holds almost three kilograms weight.
Also Read: GI of Himalayan pink salt to be registered

Small potatoes, boiled eggs, mint leaves, roasted cashews, pomegranate seeds, and fried onions are part of it to give it a unique essence. A combination of a variety of grilled meats, such as skewered kebabs (made from Kashmiri rams), spare ribs of lambs from old Delhi, Rajput chicken kebab, Mughlai koftay, and malai [creamy] chicken roast made it a great dish for meat lovers.
This special Biryani is served with multiple exquisite sauces, curries, and raita. Nihari is also part of serving along with Jodhpuri curry, special almond sauce combined with raita made from pomegranate seeds, and edible gold leaves.
According to Bombay Borough UAE's Instagram page, 'The Royal Gold Biryani' is rated at INR (Indian Rupees) 19,707, which is equivalent to about AED(Arab Emirates Dirham)1,000 or PKR (Pakistani Rupees) 43,300. Moreover, it's served in a large gold plate and is available at the Dubai International Financial Centre (DIFC).
Though they offer pre-bookings also but according to the cooks at the Bombay Borough UAE " ordering on the spot will take up to 45 minutes for preparation, but we will make sure you have the meal of a lifetime".