Nigeria Receives 3 JF-17 Thunder Fighter Aircraft From PAF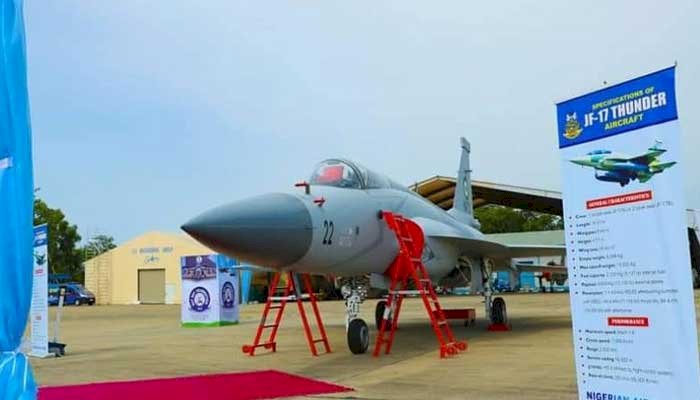 The Pakistan Air Force (PAF) officially handed over three JF-17 thunder fighter aircraft to the Nigerian Air Force (NAF) on Friday.
Pakistan Aeronautical Complex (PAC) Kamra delivered the aircraft to NAF during a ceremony to celebrate it.
Maj Gen (retd) Bashir Magashi, Minister of Defence of Nigeria was the Guest of Honour and president at the ceremony, while Air Marshal Syed Noman Ali, Vice Chief of the Air Staff of Pakistan was the NAF's special guest.
Maj Gen (retd) Magashi thanked Pakistan along with the PAF for the sustained cooperation and partnership between the two countries for improving the Nigerian air forces' capabilities.
According to him, meeting Nigeria's security challenges is a long way. "We are excited about the addition of JF-17 fighter aircraft from Pakistan," he added.
As Air Marshal Syed Noman Ali stated, the day would be a historical landmark for Pakistan's JF-17 program and depicted a reflection of the strong military cooperation and mutual trust shared between the two countries.
He said that JF-17 unique fighting capabilities would prove as a powerful platform in meeting the security requirements of Nigeria as he expressed his confidence in it. He also assured Maj Gen (retd) Magashi that both PAF and PAC Kamra would continue supporting the NAF in meeting its requirements.
Read more: Pakistan Orders Four LNG Cargoes For Winters From Qatar
The PAC Kamra delivered the aircraft to the NAF according to scheduled timelines decided earlier in March, despite the problems amid the COVID-19 pandemic.