UK man asks for a wife on a billboard to be saved from an arranged marriage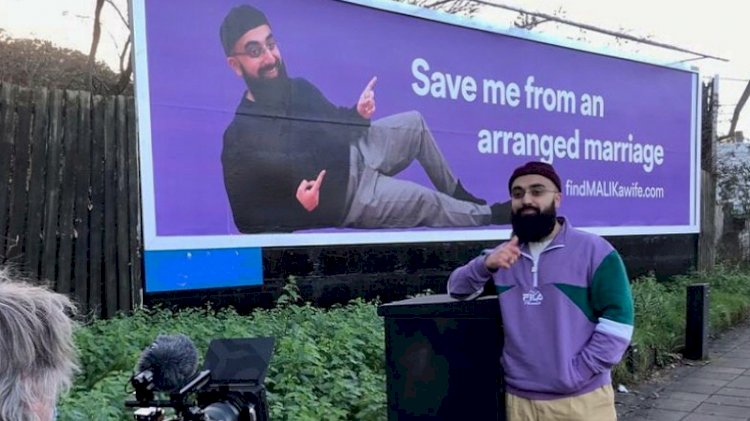 Source: Muhammad Malik's Instagram
Muhammad Malik, 29 is a UK citizen who goes out of his way to speak up about the horrors a typical arranged marriage brings in the lives of both men and women.
Desi kids of Pakistan have the constant threat looming over their heads of getting married to someone they don't know or have an understanding with. Because of this broken matrimonial system, first cousins in Pakistan have become a meme stock to highlight the mistakes Pakistani society makes in tying a knot.
Muhammad Malik put up signs around the UK city of Birmingham that read "save me from an arranged marriage" and added a link to his website findmailkwife.com for potential suitors to get more information on what is he looking for in a companion.
On an Instagram picture, he captioned,
"Huge thanks to anyone who's messaged in support or has actually applied to be my wife, I see you don't worry!! I have been overwhelmed with all the messages but I love it, pls keep them coming, I'll get back to you as soon as I can inshallah."
In a video on the website, he introduced himself as an entrepreneur and foodie who's religious and is looking for "someone who is working on her Deen".He says he is okay with ethnicity but since he comes from a loud, Punjabi family, "the banter has to be 100".
He added a forum on the site for whoever is interested, along with his social media handles. He has received many responses for which his friends are making spreadsheets to keep a record.
During an FAQ on his website, he said he is not against arranged marriage but just wants to try, "try and find someone on my own first."
He says he just wants to find the right girl for him as arranged marriages do not give much of a margin to judge compatibility. Yes, putting yourself out there this much strikes as funny but choosing a parent by maturely communicating your needs is a healthy way of getting married. All people, especially Pakistanis are in dire need to understand and implement this.