Altaf Hussain A Most Wanted Terrorist In Red Book Of FIA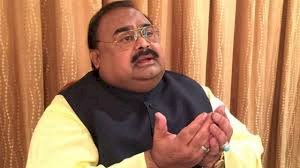 The authorities of Pakistan had declared Altaf Hussain, the founder of MQM, one of the most wanted terrorists of Pakistan, Putting his name in the Federal Investigation Agency's Red Book for the first time.
The Red Book, brought together by Counterterrorism Wing of the FIA, it includes the name of people who were declared escape by anti-terrorism courts in Pakistan. The list consists of many MQM leaders named Muhammad Anwar, Iftikhar Hussain, Altaf Hussain and Kashif Khan. Altaf Hussain and others are allegedly involved in the murder case of a former leader of MQM Dr. Imran Farooq and all of them never joined the investigation.
In June 2020, Islamabad's anti-terrorism court announced a sentence to life imprisonment for Khalid Shamim, Mohsin Ali and Moazzam Ali and declared Anwar, Hussain, Kashif and Khan as absconders and called on the government of the UK to hand over Anwar, Iftikhar Hussain and Altaf Hussain to Pakistan. Yet, the UK government has taken no action on the request.
The very first time FIA made a list of the most wanted people while compiling this document, it includes a profile of 1,210 terrorists. The majority are wanted to police in KPK. 161 people are wanted by law enforcement agencies in Balochistan. More or less 100 people are demanded by the Sindh government. Similarly, 122 in Punjab, 30 in Gilgit-Baltistan and 32 suspects on the list are most wanted by law-enforcement agencies of Islamabad.

Read More: Maryam Nawaz Appeared As Halima Sultan In GB
An official of Scotland Yard said the police were in contact with Pakistani authorities and will take proper action if any actionable new evidence comes up. It's believed that Kashif Khan Kamran, who helped Mohsin Ali Syed to kill Dr.Farooq, died years ago in police custody in Karachi. There has been no official confirmation of the death of Kashif Khan Kamran and now his name has appeared on the most wanted terrorist list.

On 13th November, Muhammad Anwar told a famous new channel that he never had anything to do with the killing of Dr. Imran Farooq. The police of the United Kingdom have looked into the case and they have found nothing against me and they would have charged me and others with murder if they had been any proof but they didn't, which shows the claiming are fake. Muhammad Anwar also said those who killed Dr.Imran Farooq have been prisoners based on proof given by Scotland Yard. Moreover, he said: "since a decade, Scotland Yard investigated the case. The list provided by the FIA is politically motivated."

Read More: Junagarh To Be Part Of Pakistan Soon
On September 16, 2010, Dr. Imran Farooq was found dead near his residence in Edgware. He had many stab wounds on his body and head injuries. He had been living in the UK for more than ten years when he died.