Maryam Nawaz Appeared As Halima Sultan In GB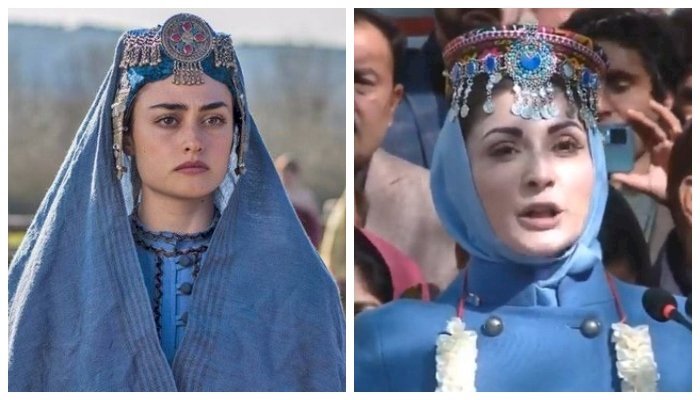 Today, the vice president of Pml-N Maryam Nawaz gave the impression of a popular character Halima Sultan of the Turkish drama series Dirilis: Ertugrul at the jalsa in Gilgit-Baltistan.

Maryam Nawaz is always on the news cover because of her appearance and expensive clothes and shoes. Once again, she is highlighting in the news because of the avatar of Halima Sultan.

Maryam Nawaz was dressed head to toe in a blue color coat with a matching dupatta/scarf. In addition to it, she placed ornaments on her head that looked similar to the most popular character of Halima sultan, wife of Ertugrul in the drama serial Ertugrul Ghazi.

Maryam Nawaz is currently campaigning in the northern region ahead of the Sunday polls of the legislative assembly. She has been speaking to public gatherings in different areas of Gilgit Baltistan and led a rally from Shigar to Skardu as well.

Read More: Maryam to Start Gilgit Baltistan Election Campaign

Maryam has been wearing traditional outfits for the campaign. Recently, she wore a dull maroon shalwar kameez with a traditional Chitrali pakol hat at a rally in Skardu.

Yesterday, she dressed in a traditional headpiece while participating in a gathering in Astor.