At Least 24 Dead, 100 Missing As Cyclone Tauktae Hits Covid-Affected India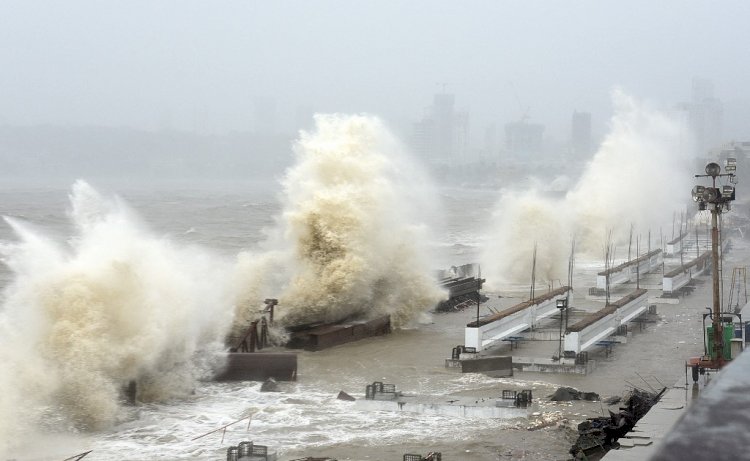 Cyclone Tauktae in India
At least 24 people lost their lives and about 100 went missing after a monster cyclone hit western India on Monday evening, intensifying the country's woes as it fights a devastating coronavirus surge.
Thousands of people survived without power after Cyclone Tauktae struck the Gujarat coast.
According to the officials, winds blowing at a speed of up to 130 kilometers per hour (80 miles per hour) shattered seafront windows and overturned power lines and thousands of trees as well as blocking roads leading to affected areas.
"This is the first time I have experienced such intensity in my life," stated a hotel owner in the town of Bhavnagar. "It was total dark as power was cut off and the blowing winds were making a roaring sound, making it scarier."
In Mumbai, one support vessel serving oil rigs that were struck by eight-meter waves sank, and 96 out of 273 people who had been on board were missing, stated the Indian Navy on Tuesday.
According to the defense ministry, 177 people were rescued, with operations continuing in "tremendously challenging sea conditions". Also, two other barges and one oil rig were in trouble.
In another incident, four casualties were reported on Tuesday, which includes a child who succumbed to death by a collapsing wall and an 80-year-old woman killed by a falling pole, as stated by Gujarat chief minister Vijay Rupani.
He elaborated that more than 16,500 houses were damaged, 40,000 trees were uprooted, and 2,400 villages were left without power.
"As the cyclone caused the landfall, we have not had power or communications," one of the local official, Aayush Oak told by phone from the coastal district of Amreli, where more than 40 mobile phone towers were damaged.
Despite one of the fiercest cyclones in decades, better forecasting as compared to previous disasters meant that 200,000 people in danger zones were rescued from their homes.
Read more: Cyclone Tauktae Not Expected To Reach Coastal Areas: PMD
"Our planning since the last three days has been successful. We have managed to minimize human casualties," stated Rupani. But challenges are still there.