No Relief For Palestinians From Israel Strikes, Despite Diplomatic Efforts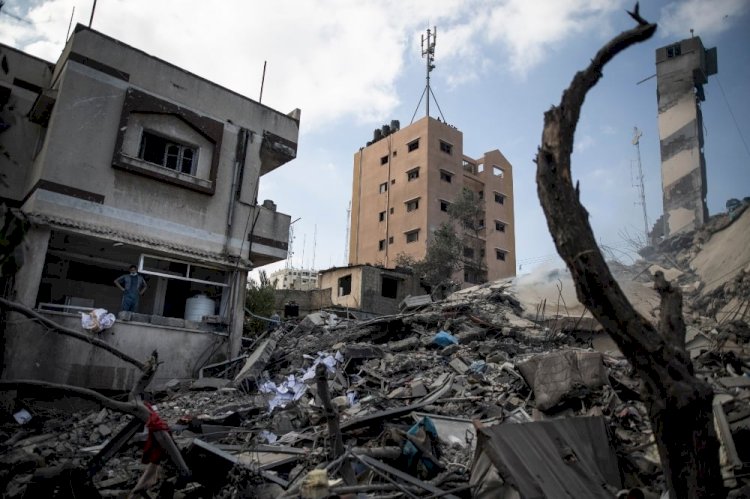 Palestine destruction after Israel strikes
The UN Security Council was expected to hold an emergency meeting on Tuesday as diplomatic efforts increased aimed at stopping Israel airstrikes that have taken the lives of more than 200 Palestinians.
A fireball with a cloud of black smoke blew up over a Gaza building early on Tuesday after the latest Israeli strike, as reported by a journalist.
Although there are increasing calls to put an end to the bombardment, however, Israeli Prime Minister Benjamin Netanyahu stated on Monday night that Israel would carry on striking at the terrorist targets.
Israel initiated its air campaign on the Gaza Strip on May 10 after the Islamist group Hamas fired rockets in reply to Israeli police's attack and shelling on Muslim worshippers in the Al Aqsa mosque. It was also due to the threat of expelling Palestinians from an east Jerusalem neighbourhood.
As a result of Israeli airstrikes, a total of 212 Palestinians has been killed, including 61 children, in Gaza. On the other hand, rockets fired by Palestinian fighters have killed 10 people in Israel, including a child, as per the officials on both sides.
The Security Council session scheduled for Tuesday is the fourth one since the conflict intensified and was planned after the United States, negated to accept a joint statement calling for a stop to the violence on Monday which was the third time in a week.
US President Joe Biden, having resisted joining other world leaders along with his Democratic party in calling for an instant end to the violence. He also told the Israeli Prime Minister on Monday night that he wants a ceasefire but didn't demand a truce.
Israel continued its bombardment overnight, over the densely populated coastal enclave as multiple strikes crashed into buildings in Gaza City shortly after midnight, journalists reported.
Read more: Israeli strikes kill 42 in Gaza Strip
According to the Israeli army on Tuesday, it had hit 65 "targets" inside Gaza overnight, whereas Palestinian fighters had fired dozens of rockets, many of which were stopped by air defenses.