"COAS AND ISI CHIEF CALL ON PRIME MINISTER PAKISTAN"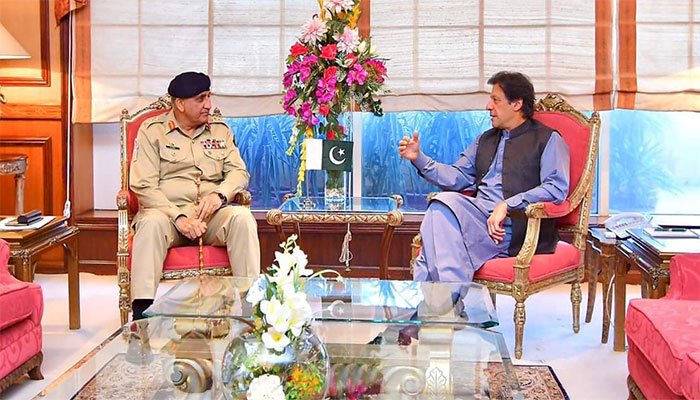 Chief of Army Staff Pakistan met Prime Minister Imran Khan, on Thursday. This meeting stands as a part of an interaction between civilian and military leadership. Along with COAS, Director General of the Inter-Services-Intelligence Lt. General Faiz Hameed was also present in the meeting. The meeting was purely for the discussion of internal and external matters of the state. No statement has been seen from PM's side however usually a press release is made on such interactions otherwise.
There have been 5 publicly known meetings of Imran Khan, COAS, and the Director-General of ISI up till now. However, people have quickly linked the meeting to the upheaval in the political atmosphere nowadays where the ruling federation has faced a setback when Finance Minister Abdul Hafiz Sheikh lost the senate elections against the former prime minister, Yousaf Raza Gillani.
Also Read: Pakistan Offers Military Training To Qatar
Now this setback has urged PM Imran Khan to take a vote of confidence from the National Assembly and for this, he held meetings with the allies and party leaders to take their suggestion regarding this in the early time.
Pakistan Muslim League-Nawaz leader Maryam Nawaz, while speaking at a press stated that COAS Pakistan and DG-ISI should not have met Mr.Khan in such a situation because this does not convey a good visual to the political aura.
The institutions should work in their own domain and within the authority given to them by the Constitution of the state.