Four polio vaccinators killed in Afghanistan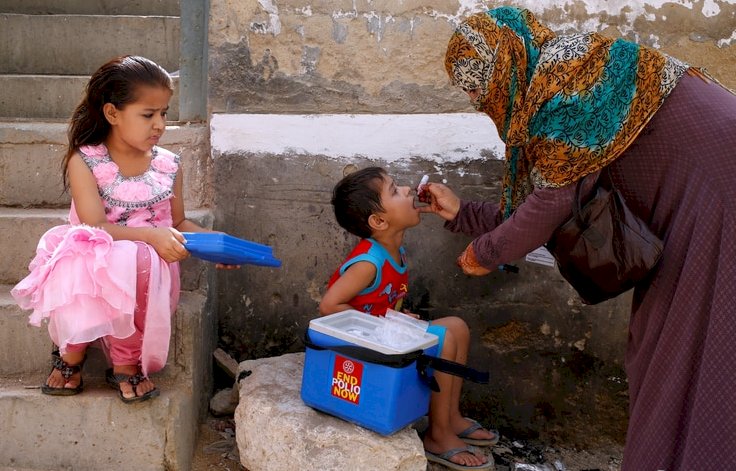 At least four people lost their lives Tuesday in a series of targeted attacks on polio workers in eastern Afghanistan, which is as per officials, is the second attack on vaccinators in less than three months.
As stated by Nangarhar police spokesman Farid Khan, the polio workers were gunned down in an interrelated attack in three different locations during two hours.
"This is done by the Taliban, killing innocent health workers to deprive people of polio vaccines," he added.
The attacks have also been confirmed by Health ministry spokesman Osman Taheri. However, the Taliban denied the responsibility.
Polio has been eliminated across the globe except for Afghanistan and neighbouring Pakistan, as there is distrust of vaccines and eradication campaigns.
According to the officials, in Tuesday's attacks, two vaccinators were killed and one injured in the Khogyani district, whereas two were also killed in Surkhrod.
In the other attack, three vaccinators were injured in Jalalabad.
The vaccination drive in the province had now been suspended, as per another health official.
"All of these were targeted attacks against polio vaccinators, and currently, we have quit all polio vaccination drives in Nangarhar province," stated the official, who didn't want to mention his name.
Tuesday's attacks are part of series of attacks in less than three months after three women polio vaccinators were shot dead in Jalalabad.
The country has experienced a devastating series of targeted attacks on journalists, politicians, and activists, for which both the Afghan government and the United States have blamed the Taliban.
But they deny the responsibility as always.
Last week, 10 people working for the 'HALO Trust' organization were gunned down in northern Afghanistan.
According to the government, the Taliban were behind the attack, but as per the UK-based charity, the local militants came to help.
Read more: Heavy Rains, Strong Winds Killed 10 In Different Areas of Pakistan
The Taliban, and religious leaders, consider 'vaccines' as a Western conspiracy intended at sterilizing Muslim children, and they also doubt immunisation drives as 'spy on militant activities'.