Israel Strikes Gaza In Response To Arson Balloons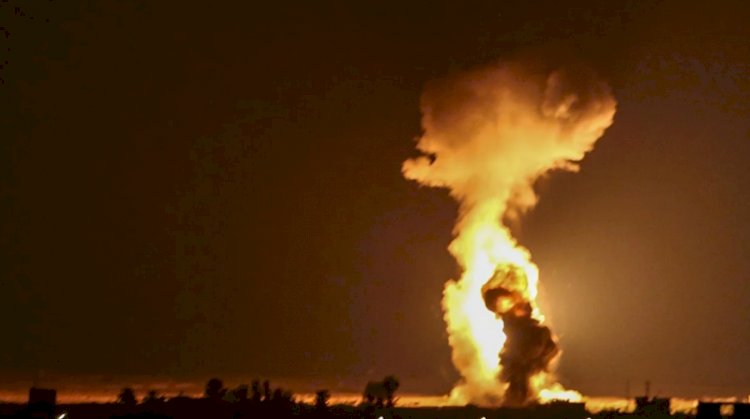 Israel performed airstrikes on the Gaza Strip Wednesday morning after militants in Palestine sent arson balloons into the south of the country, it is the first clash between the two countries since a major conflict in May in which hundreds lost their lives.
The strikes were for the first time under the new coalition government of 'Naftali Bennett', who took charge on Sunday after the expelling of the former prime minister 'Benjamin Netanyahu'.
They come as over a thousand nationalist demonstrators bearing Israeli flags went towards Jerusalem's flashpoint Old City on Tuesday, surrounded by scores of police deployed and international monitors who urged peace.
As per the Palestinian sources, Israel's air force targeted over one site east of 'Khan Yunis' in the south of the Gaza Strip, in which at least two million people live.
The explosions were seen by an AFP photojournalist in Khan Yunis.
According to the Israeli Defence Force (IDF), in response to the incendiary balloons, its fighter jets hit military compounds of the Hamas terror organization.
It further stated that meeting sites and facilities of terror workers were targeted in Khan Yunis, however, till now, there was no indication of casualties.
The IDF stated that it was ready for any situation, a resumption of conflicts, against continuing terror activities from the Gaza Strip."
According to the local firefighters, the arson balloons caused around 20 fires in southern Israel.
The violence is the first outburst between the militants of both countries since a ceasefire took place in May, ending 11 days of heavy fighting that resulted in 260 Palestinian deaths including some fighters, as per the Gaza authorities.
Read more: Israeli Police Storm Al Aqsa Compound Once Again Despite A Ceasefire Deal
On the other hand, in Israel, 13 people were killed, including a soldier, by missiles and rockets fired from Gaza, according to the police and army.