Hindu Mob Burns Mosque Shouting "Jai Shri Ram"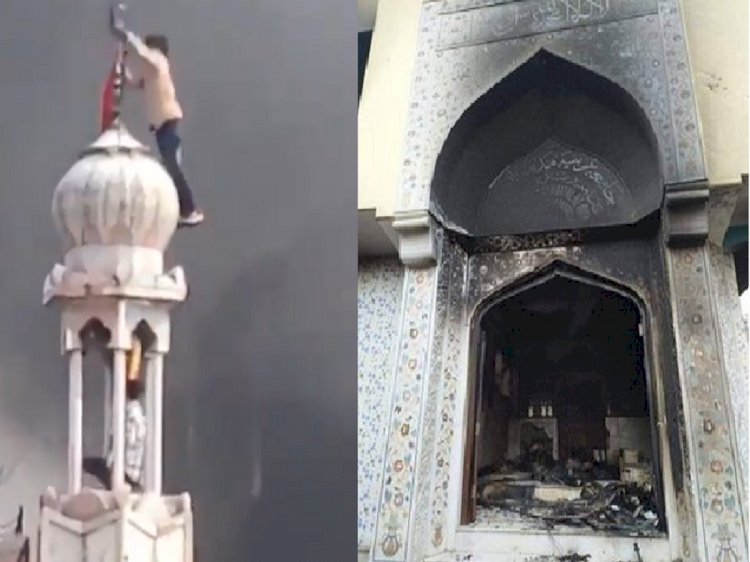 A mosque has been set on fire in the recent citizenship law protest in New Delhi, India. The protest has claimed the life of 18 people so far. The protest has left hundreds injured followed by many displays of extreme violence.
The most recent violent activity involved the burning of a mosque but Hindu extremists. As reported by the Indian website, The Wire, that a mob shouted: "Jai Shri Ram" translated to "Hail Lord Ram" surrounding the burning mosque.
Video footage recorded showed few people crawling up the minaret to plant the Indian saffron flag. This incident has been the worst extreme display of violence by Hindus so far, especially considering that Donald Trump, the US President, was visiting the country.
This incident also occurred miles away from where Narendra Modi, Indian Prime Minister met President Donald Trump for talks. While a religious place was being burned, Donald Trump was acknowledging Indian efforts for promoting religious freedom in the country.
Police were called to control the incident but many Muslims reported that police did not do anything to stop the Hindu mob which was burning the mosque.
The situation as described by police forces is grim since their vehicles were being stopped from entering the affected areas.
The post Hindu Mob Burns Mosque Shouting "Jai Shri Ram" appeared first on Nation Bytes.