Iran Navy Vessel 'Kharg' Sinks in Oman After The Fire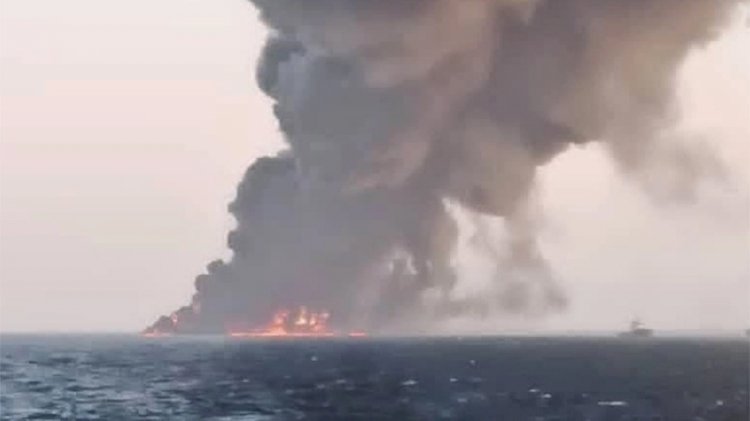 One of Iran's largest naval ships dropped on Wednesday after catching fire. It was on a strategic port's "training mission" near the head of the Gulf, the navy stated.
The British-built navy vessel 'Kharg', which was over 200 metres (more than 650 feet) long, caught fire on Tuesday at Jask port on the Gulf of Oman, according to the navy.
As per the footage aired by state television, an enormous column of smoke rising from the burning vessel can be seen.
The fire occurred in "one of the systems" of the ship, said by a navy statement without mentioning the details.
The efforts to blow out the fire continued "for 20 hours" before the ship went down.
As the spread of the fire was in consideration, the target to save the 'Kharg' failed and it sank in waters off Jask," the navy stated.
The fire gripped the ship at 11 am (0630 GMT) on Tuesday as it was in "local waters" while on a "training mission", as stated by the navy's head of public relations Behzad Jahanian as per Iran's Tasnim news agency.
It sank at about 8:30 am (0400 GMT) on Wednesday. All navy staff including 400 cadets and crew got off safely, only 20 sustained light injuries or burns.
According to Jahanian, the reason behind the fire eruption was "still not clear".
'Kharg' was the only dedicated navy vessel able to resupply warships at sea, so its importance for Iran cannot be denied, stated by 'Jeremy Binnie' of open-source defense intelligence provider 'Janes'.
"The Iranians often consider it as a 'helicopter carrier' but in actual, it is a replacement ship, a useful asset however as it was the Iran Navy's only dedicated ship playing this part," Binnie said.
Read more: Six Pakistanis Stuck In Red Sea, Rescued
According to Iran's ISNA news agency, the vessel had left for a mission on May 19 and was aimed at training, intelligence, and combat along with the destroyer Alborz.