Ishaq Dar Gets Brutally Grilled By Host On BBC's Hard Talk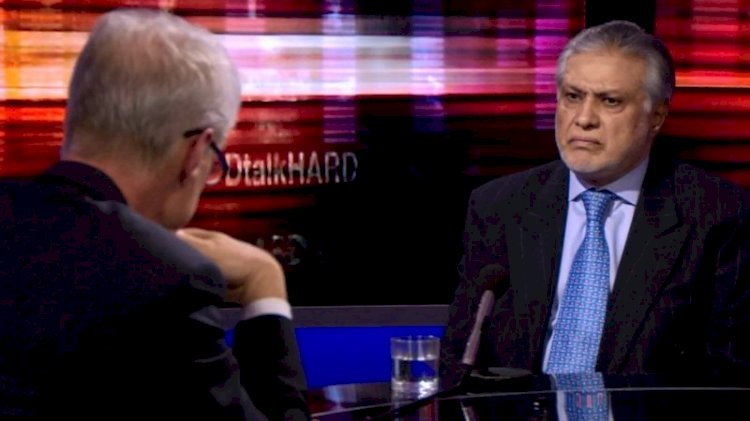 Former Finance Minister in PML-N government Ishaq Dar was intensely grilled in BBC show 'Hard Talk' by its host Stephen Sackur.
Ishaq Dar has been officially declared an absconder by the state as he refuses to appear before the court in Pakistan. He is required to defend himself in front of the court for many serious corruption charges filed against him.
When asked by the Hard Talk show's host that if he is here in London to get away from the judicial proceedings against him in Pakistan and about him being a 'wanted man' in the country, Dar replied that it isn't so and that corruption allegation has been used throughout Pakistan's history as political rhetoric and same goes for today. He also called the current government a 'judicial martial law'.
Stephen Sackur did not back out and asked that if he is innocent then why is he hesitant in returning to Pakistan and present himself in court.
Sacker said, "You only own one property in the entire world; your tax records have been kept and given to the authorities for the last 20 years; when everything is crystal clear, then why do you not go to Pakistan to make this case in the court of law," as quoted by Tribune.
Dar countered that his legal attorney was there to represent him in the court and he was residing in London for his cervical issue's treatment.
To which Sacker further asked him that he has been in England for 3 years, is he still suffering from the problem and other questions? To which Dar had no answer but to only say 'yes'.
Many times Ishaq Dar in his nervousness made mistakes in the interview like saying NAB is killing people and that he and his family only own one house in Pakistan that has been taken over by the government and no other property.
When the BBC host inquired about his property in Dubai, he said it belonged to his son and they were independent for the last 17 years.
Read More:Lahore To Be Divided Into Four Districts
Netizens on Twitter and other applications trolled Ishaq Dar and said this is Hard Talk, not capital Talk.