JazzCash Launches "NextGen" Pakistan's First Digital Account for Teenagers.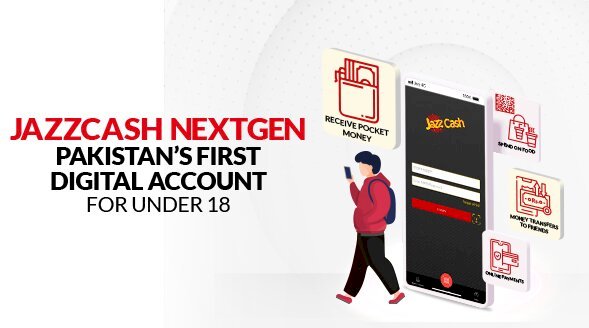 JazzCash has launched Pakistan's first digital accounts for teenagers named "NextGen". This account will allow youngsters age between 12 to 17 to receive their pocket money and enjoy the best Digital Banking Service available in the country.
The NextGen account will give young account holders complete freedom to deposit, withdraw cash, make online payments, make QR payments and send money to friends, recharge their mobile balance, and also used for many other JazzCash services.
This account is not like bank accounts for which you have to provide them several documents and wait for their response to open your account. In this NextGen account opening, you have to visit any JazzCash Biometric agent, alongside the minor's parent/guardian with their B-form details. And your account can be open within 5 minutes. Once the minor will turn 18, they can convert their NextGen account to a Conventional JazzCash account.
Also Read: A Camera Bug Found On WhatsApp Beta Version For Android
JazzCash is an existing partner of the state bank of Pakistan. JazzCash also play important role in promoting financial literacy among youth through its PomPak program, which believes its NextGen initiative serves to advance the National Financial Inclusion agenda.
"The younger generation makes up a significant portion of the local population and is quite familiar with technology and devices. JazzCash is the No. 1 fintech in Pakistan, and we are proud to provide an early life banking solution for teenagers, to teach financial literacy and responsibility firsthand – a crucial life skill in today's times", CEO JazzCash Erwan Gelebart's said.