KU Teachers Protest Outside IBA After Students Roughed Teacher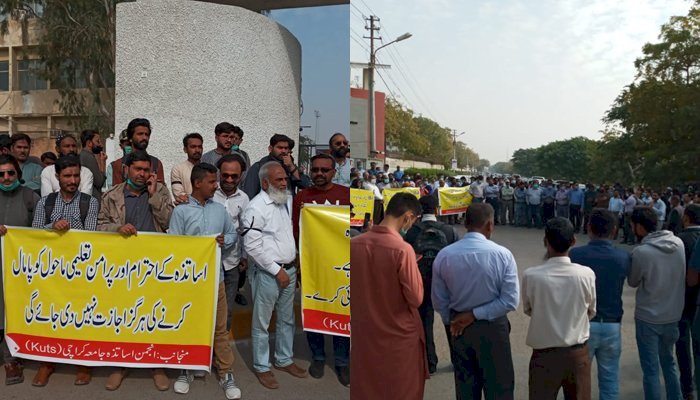 On Monday, February 15, 2021, the teachers from Karachi university recorded a protest outside the Institute Of Business Administration after the students and guards of the institute allegedly roughed one of the Karachi University faculty members.
Owing to the demonstration outside IBA, the classes in KU remained suspended.
The protestors demanded the abolishment of the encroachments on the land of the Karachi university along with the suspension or expulsion of the students involved in the assault of the teacher.
The teachers warned the intensification of the protest if the desired action is not taken, as according to them this was not the first time such beating, assault, or harassing incident has taken place.
On the other side, the students have alleged that the institute is hiding the 'real facts' and keeping them in dark.
As per the IBA spokesperson, the university strongly condemns such incidents and the disciplinary committee is analyzing the matter from all angles and will take the necessary actions afterward.
Read More: Pakistani ACCA Student Scores Highest Marks In The World
While addressing the media, the IBA spokesperson said that "IBA cannot handle incidents of violence, [we] are working with Karachi University to resolve the matter".