Pindi teachers call their day "The Black Day"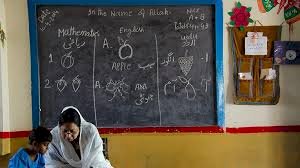 Rawalpindi: Many teachers' organizations in Rawalpindi have announced to observe Teachers day as Balck Day this year.
Teachers today in the garrison city attended the schools with black armbands and refused to take part regarding the day. The organizations' leaders including Muhammad Shafiq Bhalwalia, Basharat Iqbal Raja, and Malik Amjad said that teachers across the country were facing economic difficulties.
Read Is Tourism Posing Threat to Natural Beauty in Pakistan?
On this day of receiving the gratitude form the society, the architects of the minds and character wearing black armbands shows the grievous reality of how teachers are treated in our country. Being a highly paid profession and well respected worldwide, teachers in Pakistan face difficulties in getting contracts or facilities the government has set for them.
Teachers in Rawalpindi use this day to give the message to the whole nation for respecting their profession and realizing their importance in the formulation of a well-educated society.