Scoring More Than 36, India Won Second Test Against Australia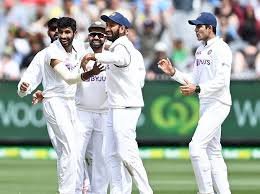 On Tuesday, India has leveled the test series by winning the second test match by eight wickets in Melbourne.
Scoring more than iconic 36 runs pays well for India. The Indian team started the match under pressure owing to their record slow team total of 36 all out in the previous match. However, it was a lucky new game where they rise and end up winning against Australia in Australia a rare case for team India.
In summary, the match started with Australia batting first and posted only 195 runs on the board. Owing to Rahane's century the Indian team was successful in posting a lead of 131 runs for Australia to cover in the second innings and add more to it for setting the target.
The fourth day of the match started with Australia 133 for six wickets down. The only hope for the Australian team was the inexperienced new all-rounder Cameron Green who batted for 45 runs but the wickets from the other end keep falling. Aussies were once again bowled out leaving a target of mere 70 runs for India to claim the victory.
Read More: Fakhar Zaman Receives Honorary Rank Of Lieutenant From Navy
Rahane scored unbeaten 27 runs to lead India to victory as the south-Asian country won the achieve the target for the loss of two wickets.