Muslim Teenager Beaten & Arrested For Walking Hindu Girl Home In India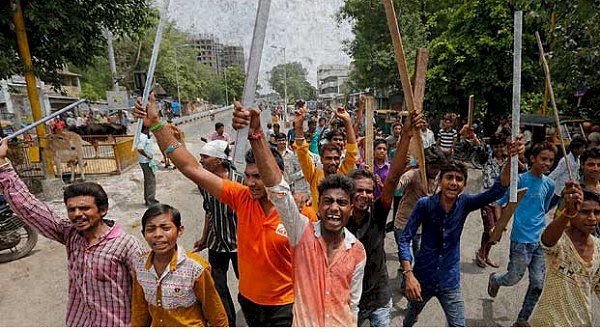 A teenage Muslim boy imprisoned in Bijnor, India for walking a Hindu girl home after attending a friend's birthday party.
The Muslim teenager was detained for 10 days by the Indian police. The boy was walking the girl home through the streets of Nasirpur village, when villagers spotted them together, they attacked him and later handed him to the local police.
A video that is circulating on the Internet of the incident, and shows a huge mob that is armed with sticks and metal rods and beating the armless youth.
It was said that the Muslim teenager was a thief and later a 'love jihad' turn was trying to be given to this incident.
The father of the Hindu girl made a complaint against the boy saying he was trying to convert his daughter but suggesting they run away to marry each other.
The girl has denied all this and clearly said that he wasn't trying to persuade her into converting to Islam.
"The accused was booked under Sections 363 (kidnapping) and 366 (abduction to compel marriage) of the IPC, Section 18 of the Pocso Act (sexual harassment), Section 3(2)(v) of the SC/ST Act (offense carrying 10 years' jail term against a member of the SC or ST community), and sections 3 (conversion by fraud, misrepresentation, coercion, allurement or marriage) and 5(1) (punishment for forced conversion) of the UP Prohibition of Unlawful Conversion of Religion Ordinance," police said as quoted by Geo News.
Read More: UK Slaps Hefty Fine On Indian TV Channel For Hate Speech Against Pakistan
BJP the ruling party in India has approved the law against the conversion of religion for marital purposes.