Shahid Afridi Engages In A Fiery Argument With Naveen-ul-Haq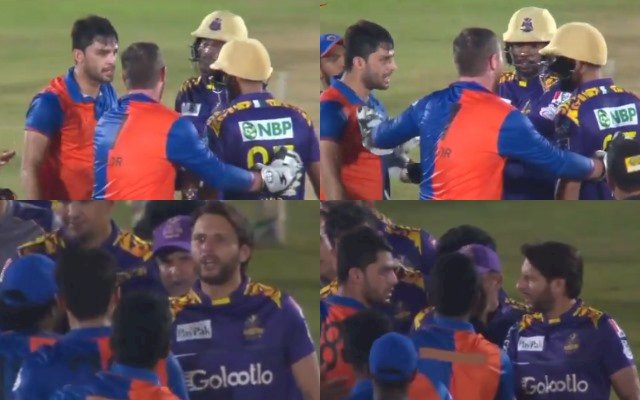 Temper flared as Kandy Tuskers opened their winning account by beating Galle Gladiators in the Lanka Premier League on Monday.
While Gladiators failed to do so even after the three games. However, the game was marked by the blistering argument between Naveen-ul-Haq from Kandy Tuskers and Mohammad Amir and Shahid Afridi from Gladiators.
It all started in the 4th ball of the 18th over, when Amir hit Naveen for a boundary, following a dot ball by the pacer.
The right-arm pacer allegedly abused Amir after completing his over. This action created a fury and both the players came face to face before being separated by others.
The drama resurfaced in the 20th over when Amir hit the last ball of Naveen over for a six. After the game ended, the argument only increased.
Amir was worked up by the actions of the 21-year old pacer and both the players exchange angry words with none of them ready to back down.
Teammates from Kandy Tuskers had to intervene again to bring the situation to normal. Surprisingly this was not the end of the drama.
Shahid Khan Afridi decided to have a word with Naveen on behalf of his teammate Amir during the post-match players greeting.
Shahid greeted everyone with a smile but changed the expressions as soon as he saw Naveen-ul-Haq. The world-famous cricketer Shahid Afridi seemingly asked Naveen "kya ho gya?" (Urdu phrase for what happened). He continued saying something and, Naveen replied to it as well.
As far as the game is concerned Gladiators fall 25 runs short in response to 197 runs by Tuskers.
Read More:Hamiza Says Babar Azam Allegedly Subjected Her To Harassment
This was Gladiator's third consecutive loss in the tournament while the game marked the first win for Tuskers in the tournament.