Three Laborers Killed In Karachi Factory Fire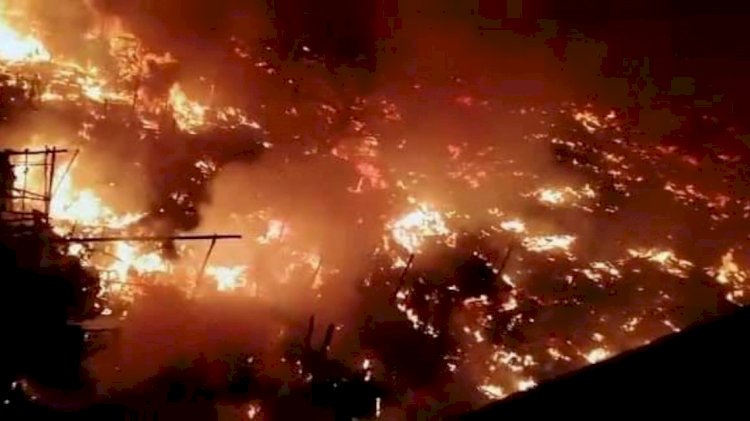 Three laborers lost their lives after a fire erupted in a thread factory in Baldia Town Sector 5, on Tuesday night.
According to rescue officials, the fire started on the third floor of the factory late Tuesday night and, as a result, the whole factory was engulfed in flames.
It took five hours to extinguish the fire completely with the help of a snorkel and four fire brigade vehicles.
According to the police, the factory has been entirely burnt and owners have suffered millions of rupees losses. The owners of the factory are in police custody now.
The laborers killed in the fire have been identified as Muhammad Kazim, Fayyaz, and Ali Sher, and their bodies were recovered from the third floor.
Sindh minister Sohail Anwar Siyal reached the factory site, after the unfortunate incident. In elaborating details to the media. he said that it appears, the fire started because of a short circuit. He assured of the further investigation against both the fire brigade and the factory owner. If any negligence will be found from the fire brigade side, action will be taken, he said.
Chief fire officer Mobin Ahmed said there was no emergency exit in the factory, and the windows of the factory were closed with iron bars.
In discussing this matter with Factory owner Imran, he started blaming that loss of life and property as were the result of the late arrival of the fire brigade.
Read More: Pakistan Turkey Joint Military Excercise ATATURK-XI Starts In Terbela
On the other hand, the father of victim Ali Sher narrated there were no emergency exits. He was proud of his son because he was martyred while helping people. He further added that his son came out of the factory during the fire but went back in to help evacuate others.
A firefighter suffered minor head injuries while extinguishing the fire, rescue officials told. He has been discharged from the hospital after getting treatment.