Why Indians Should Take Modi's Warning Seriously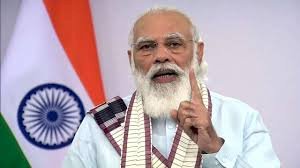 On October 20, Indian PM Narendra Modi addressed the state and said that is not the time to take the Covid-19 pandemic for granted during the upcoming festive season of Navratri festival, Durga Puja, Diwali and others.

In his speech, PM Modi said people to remain more careful and implement precautionary measurements as the coronavirus pandemic has not over yet. In addition, he said that lockdown may have lifted up but the virus is still here with us. If people are not following the instructions and moving here and there without a mask, you are putting the lives of your loved ones at risk. This is not the time to be negligent or to assume that COVID-19 has ended. We should keep in the coronavirus is still there only the lockdown is lifted up," said PM Modi.

Here are some reasons why Indians should take PM Narendra Modi's warning seriously:

Read More: 74,000 corona cases reported in India in the last 24 hours

1. Learn a lesson from Kerala's Onam Covid-19 spike
2. Government panel issue a warning that it is supposed 50% of the Indian population likely to be infected by Feb 2021
3. Things can get worse faster than they are getting better
4. Covid-19 vaccine is not available in the market yet.